Specs/CAD
Part Number
Max. Bore
Diameter
(mm)
Rated
Torque*1
(N·m)Rated
Torque*1
(N·m)
Max.
Rotational
(min-1)
Moment*2
of Inertia
(kg・m2)Moment*2
of Inertia
(oz. in.2)
Static Torsional
Stiffness
(N・m/rad)Static Torsional
Stiffness
(lbf in./deg)
Max. Lateral
Misalignment
(mm)Max. Lateral
Misalignment
(in.)
Max. Angular
Misalignment (°)
Max. Axial
Misalignment
(mm)Max. Axial
Misalignment
(in.)
Mass*2
(g)Mass*2
(oz)
MBB-19C-4-8
8

1.5

13.27
33000
8.6×10

-7

0.047

170

26.26

0.15

0.006
1.5

±0.5

±0.02

16

0.56
*1: Correction of rated torque and max. torque due to load fluctuation is not required. For more detailed information, please refer to Selection Guidelines.
*2: These are values with max. bore diameter.
Slip torque
Concerning the sizes shown in the table, please note that the shaft's slip torque is smaller than the rated torque of
MBB-C
.
Part Number
Bore Diameter(mm)
3
5
6
MBB-19C
0.8
MBB-32C
2
4.2
MBB-40C
9.8
Structure
Clamping Type
MBB-C
Aluminum alloy hub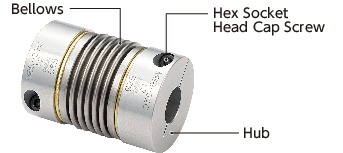 Material/Finish
MBB
Hub
A2017
Anodized
Bellows
SUS304
Hex Socket
Head Cap Screw
SCM435
Ferrosoferric Oxide
Film (Black)
Characteristics
| | MBB |
| --- | --- |
| Servomotor | ◎ |
| Stepping Motor | ◎ |
| General-purpose Motor | - |
| | MBB |
| --- | --- |
| Zero Backlash | ◎ |
| Allowable Misalignment | ○ |
This is a bellows type flexible coupling.
The bellows allows eccentricity, angular misalignment, and end-play.
The bellows is stainless steel.
Application
Actuator / High precision XY stage / Semiconductor devices / Encoder

Selection
Selection Example
In case of selected parameters of shaft diameter of φ10 and load torque of 2 N・m, the selected size for
MBB
is
MBB-27C
.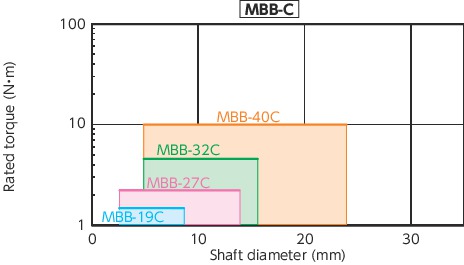 Eccentric Reaction Force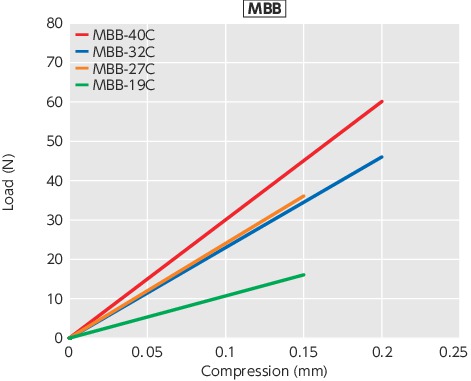 Thrust reaction force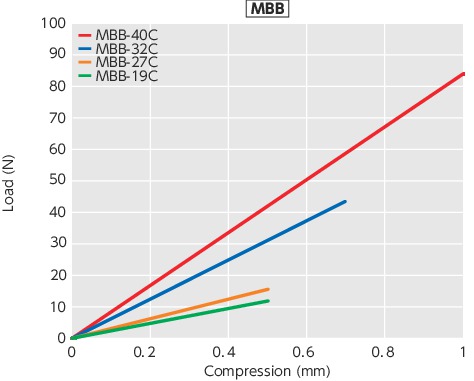 Change in static torsional stiffness due to temperature
This is a value under the condition where the static torsional stiffness at 20°C is 100%.
The change of
MBB
in torsional stiffness due to temperature is small and the change in responsiveness is extremely small. If the unit is used under higher temperature, be careful about misalignment due to elongation or deflection of the shaft associated with thermal expansion.