Specs/CAD
Part Number

A

A

L

L

W

W

E

E

F

F

G

G
M
Screw Tightening
Torque (N・m)Screw Tightening
Torque (lbf in.)
Standard Bore Diameter
D1-D2
Price
(USD)
CAD
Download
Add to Cart
Additional Modification
MFBS-12C

12

0.472

7.5

0.295

23.5

0.925

7

0.276

2.25

0.089

4

0.157
M2

0.5

4.43
-
93.74
CAD
Cart
MFBS-16C

16

0.63

9

0.354

26.5

1.043

9.5

0.374

3

0.118

5

0.197
M2.5

1

8.85
-
104.52
CAD
Cart
MFBS-20C

20

0.787

10

0.394

32

1.26

12.5

0.492

3.5

0.138

6.5

0.256
M2.5

1

8.85
-
113.08
CAD
Cart
MFBS-25C

25

0.984

12

0.472

36.5

1.437

15

0.591

4.5

0.177

9

0.354
M3

1.5

13.27
-
122.80
CAD
Cart
MFBS-32C

32

1.26

13.5

0.531

42

1.654

21

0.827

5

0.197

11

0.433
M4

2.5

22.13
-
141.43
CAD
Cart
Part Number
Max. Bore Diameter
(mm)
Rated
Torque*1
(N・m)Rated
Torque*1
(lbf in.)
Max. Rotational Frequency
(min-1)
Moment of
Inertia
(kg・m2)*2Moment of
Inertia
(oz. in.2)*2
Static
Torsional
Stiffness
(N・m/rad)Static
Torsional
Stiffness
(lbf in./deg)
Max. Lateral Misalignment
(mm)Max. Lateral Misalignment
(in.)
Max. Angular Misalignment (°)
Max. Axial
Misalignment
(mm)Max. Axial
Misalignment
(in.)
Mass
(g) *2Mass
(oz) *2
MFBS-12C
5

0.5

4.43
52000
2.1×10

-7

0.011

100

15.45

0.1

0.004
1.5

-1.2~+0.4

-0.047~+0.016

9.2

0.32
MFBS-16C
6.35

1

8.85
39000
8.1×10

-7

0.044

150

23.17

0.1

0.004
1.5

-1.2~+0.4

-0.047~+0.016

22

0.78
MFBS-20C
8

1.5

13.27
31000
2.3×10

-6

0.126

220

33.98

0.15

0.006
2

-1.8~+0.6

-0.071~+0.024

38

1.34
MFBS-25C
10

2

17.7
25000
6.9×10

-6

0.377

330

50.97

0.15

0.006
2

-1.8~+0.6

-0.071~+0.024

74

2.61
MFBS-32C
14

3

26.55
19000
2.1×10

-5

1.148

490

75.69

0.2

0.008
2

-2.5~+0.8

-0.098~+0.031

130

4.59
*1: Correction of rated torque due to load fluctuation is not required. For more detailed information, please refer to Selection Guidelines.

※ The shaft's slip torque may be smaller than the coupling's rated torque depending on the shaft bore. MFBMFBSMFB-C
*2: These are values with max. bore diameter.
● All products are provided with hex socket head cap screw.
● Tolerance of shaft bore on set screw type is H8.
● Recommended tolerance for shaft diameters is h6 and h7.
● Bore and keyway modifications are available on request. Please take advantage of our modification services.
● For the shaft insertion amount to the coupling, see Mounting/maintenance. ⇒Mounting and Maintenance
Slip torque
As in the table below, the clamping type
MFBS-C
has different slip torque according to the bore diameter. Take care during selection.
Part Number
Bore Diameter (mm)
4
5
6
8
10
12
MFBS-12C
0.4
0.6
MFBS-16C
0.9
1.9
MFBS-20C
1.6
1.8
MFBS-25C
2.2
2.9
MFBS-32C
3
3.4
4.1
Structure
Set Screw Type
MFB
Aluminum alloy hub
MFB
MFBS
MFB-C
MFBS-C
MFBS
Made of all stainless steel
MFB
MFBS
MFB-C
MFBS-C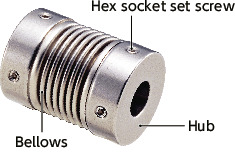 Clamping Type
MFB-C
Aluminum alloy hub
MFB
MFBS
MFB-C
MFBS-C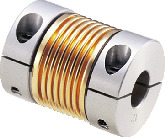 MFBS-C
Made of all stainless steel
MFB
MFBS
MFB-C
MFBS-C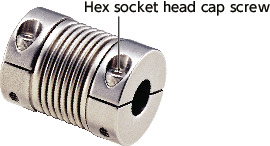 Material/Finish
| | MFBS-C |
| --- | --- |
| Hub | SUS303 |
| Bellows | SUS316L |
| Hex Socket Set Screw | SUSXM7 |
| Hex Socket Head Cap Screw | SUSXM7 |
Characteristics
Recommended Applicable Motor
| | MFB | MFBS |
| --- | --- | --- |
| Servomotor | ● | ● |
| Stepping Motor | ○ | ○ |
| General-purpose Motor | ● | ● |
| | MFB | MFBS |
| --- | --- | --- |
| Zero Backlash | ◎ | ◎ |
| Allowable Misalignment | ○ | ○ |
| Corrosion Resistance (All S.S.) | - | ◎ |
This is a bellows type flexible coupling.
The bellows allows eccentricity, angular misalignment, and end-play.
Even if there is misalignment, the constant revolution is performed.
There are two types of bellows: phosphor bronze type and stainless steel type.
Application
Encoder

Precautions for Use
In case of mounting on D-cut shaft, be careful about the position of the D-cut surface of the shaft.
⇒Mounting and Maintenance
There are sizes where the hex socket head bolt exceeds the outer diameter of the coupling and the rotating diameter is larger than the outer diameter. Please be careful of the interference of coupling.
Rotation Diameter
Selection
Selection Based on Shaft Diameter and Rated Torque
The area bounded by the shaft diameter and rated torque indicates the selection size.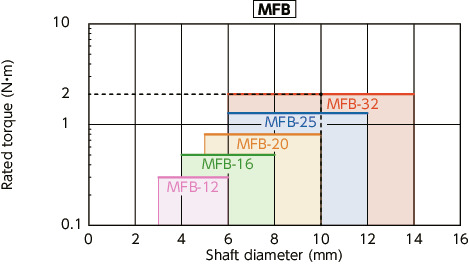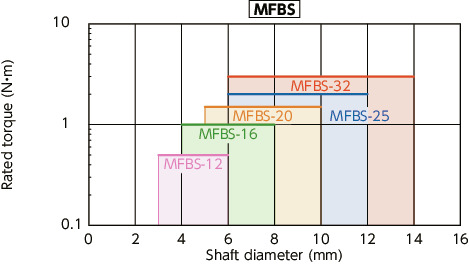 Selection Example
In case of selected parameters of shaft diameter of φ10 and load torque of 2 N・m, the selected size for
MFB
MFB-32
.
Eccentric Reaction Force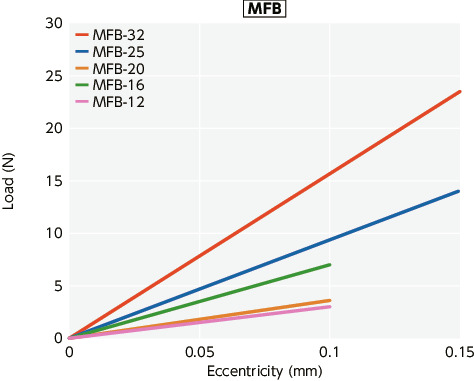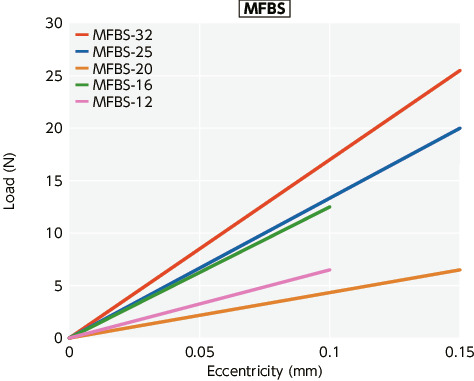 Thrust reaction force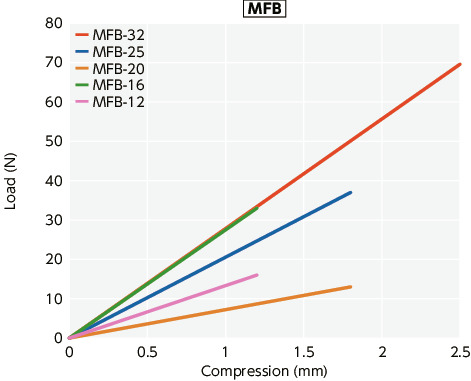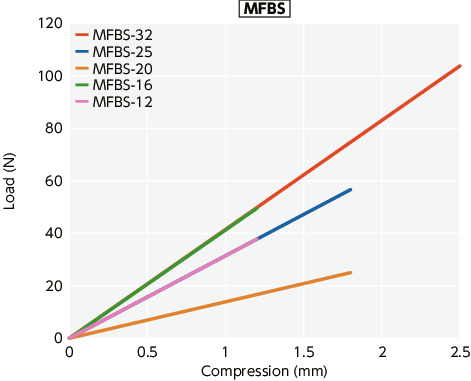 Change in static torsional stiffness due to temperature
This is a value under the condition where the static torsional stiffness at 20°C is 100%.
The change of
MFB
and
MFBS
in torsional stiffness due to temperature is small and the change in responsiveness is extremely small. If the unit is used under higher temperature, be careful about misalignment due to elongation or deflection of the shaft associated with thermal expansion.