Part Number
Max. Bore Diameter
(mm)
Rated
Torque*1
(N・m)Rated
Torque*1
(lbf in.)
Max. Rotational Frequency
(min-1)
Moment of
Inertia
(kg・m2)*2Moment of
Inertia
(oz. in.2)*2
Static
Torsional
Stiffness
(N・m/rad)Static
Torsional
Stiffness
(lbf in./deg)
Max. Lateral Misalignment
(mm)Max. Lateral Misalignment
(in.)
Max. Angular
Misalignment
(°)
Max. Axial
Misalignment
(mm)Max. Axial
Misalignment
(in.)
Mass
(g) *2Mass
(oz) *2
MWBS-13-4-6
6

0.07

0.62
10000
2.5×10

-7

0.014

30

4.63

0.15

0.006
3.50

0.5

0.02

9.8

0.35
*1: Correction of rated torque due to load fluctuation is not required. For more detailed information, please refer to Selection Guidelines.
*2: These are values with max. bore diameter.
Structure
Set Screw Type
MWBS
MWBS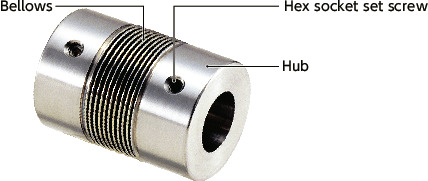 Material/Finish
| | MWBS |
| --- | --- |
| Hub | SUS304 |
| Bellows | SUS316L |
| Hex Socket Set Screw | SUSXM7 |
Characteristics
| | MWBS |
| --- | --- |
| Zero Backlash | ◎ |
| Allowable Misalignment | ◎ |
| Corrosion Resistance (All S.S.) | ◎ |
This is a bellows type flexible coupling.
The crest and root of the bellows are bonded by special high precision welding.
Thin metal plate molded with high precision allows higher misalignment to be accepted.
Even if there is misalignment, the constant revolution is performed.
Application
Measurement equipment / Control device / Encoder

Selection
Selection Based on Shaft Diameter and Rated Torque
The area bounded by the shaft diameter and rated torque indicates the selection size.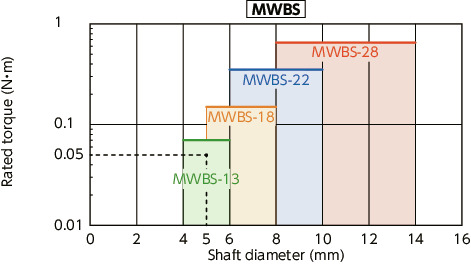 Selection Example
In case of selected parameters of shaft diameter of φ5 and load torque of 0.05 N・m, the selection size for
MWBS
is
MWBS-13
.
Technical Information
Eccentric Reaction Force
Thrust reaction force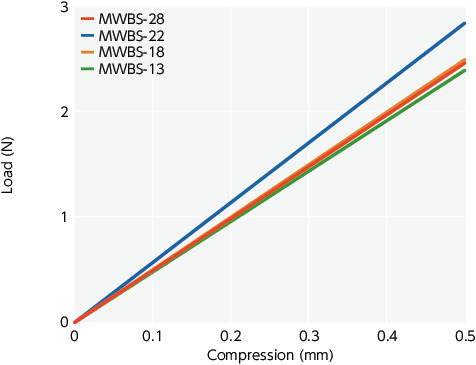 Change in static torsional stiffness due to temperature
This is a value under the condition where the static torsional stiffness at 20°C is 100%.
The change of
MWBS
in torsional stiffness due to temperature is small and the change in responsiveness is extremely small. If the unit is used under higher temperature, be careful about misalignment due to elongation or deflection of the shaft associated with thermal expansion.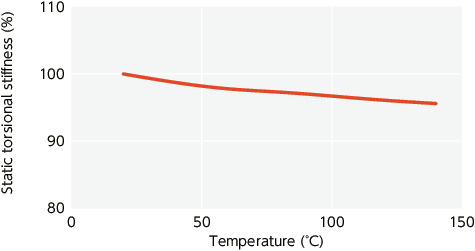 Related Products
Completely custom-made super bellows coupling with high precision welded bellows can be manufactured.