Specs/CAD
Part Number
Max. Bore Diameter
(mm)
Rated
Torque*1
(N・m)Rated
Torque*1
(lbf in.)
Max. Rotational Frequency
(min-1)
Moment of
Inertia
(kg・m2)*2Moment of
Inertia
(oz. in.2)*2
Static
Torsional
Stiffness
(N・m/rad)Static
Torsional
Stiffness
(lbf in./deg)
Max. Lateral Misalignment
(mm)Max. Lateral Misalignment
(in.)
Max. Angular
Misalignment
(°)
Max. Axial
Misalignment
(mm)Max. Axial
Misalignment
(in.)
Mass
(g) *2Mass
(oz) *2
MHW-63C-16-20
25

10

88.5
10000
1.1×10

-4

6.014

2500

386.15

0.3

0.012
2

±0.8

±0.031

230

8.11
*1: Correction of rated torque due to load fluctuation is not required. For more detailed information, please refer to Selection Guidelines.
*2: These are values with max. bore diameter.
Structure
Clamping Type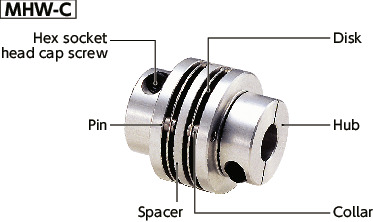 Material/Finish
MHW-C
Hub
A2017
Anodized
Spacer
A2017
Anodized
Disk
SUS301
Pin
SUS303
Collar
SUS303
Hex Socket Head Cap Screw
SCM435
Ferrosoferric Oxide Film (Black)
Characteristics
Recommended Applicable Motor
| | MHW-C |
| --- | --- |
| Servomotor | ● |
| Stepping Motor | ◎ |
| General-purpose Motor | ● |
| | MHW-C |
| --- | --- |
| Zero Backlash | ◎ |
| Allowable Misalignment | ○ |
This is a disk type flexible coupling.
The stainless steel disk allows eccentricity, and angular misalignment, and end-play.
Application
XY stage / Transport device

Precautions for Use
In case of mounting on D-cut shaft, be careful about the position of the D-cut surface of the shaft. ⇒Mounting and Maintenance
There are sizes where the hex socket head bolt exceeds the hub outer diameter of the coupling and the rotating diameter is larger than the hub outer diameter. Please be careful of the interference of coupling.

Related Products
The Double-Disk type Flexible Coupling
XHW-C
is compatible with the servomotor with 350% instantaneous max. torque is available.
XHW-C