Specs/CAD
Part Number
Max. Bore Diameter
(mm)
Rated
Torque*1
(N・m)Rated
Torque*1
(lbf in.)
Max. Rotational Frequency
(min-1)
Moment of
Inertia
(kg・m2)*2Moment of
Inertia
(oz. in.2)*2
Mass
(g) *2Mass
(oz) *2
XRP-24C
10

4.5

39.82
26000
2.7×10

-6

0.148

32

1.13
*1: Correction of rated torque due to load fluctuation is not required. For more detailed information, please refer to Selection Guidelines.
*2: These are values with max. bore diameter.
Part Number
Standard Bore Diameter D1・D2
XRP-24C
8-8
8-10
10-10
● All products are provided with hex socket head cap screw.
● Recommended tolerance for shaft diameters is h6.
● Bore and keyway modifications are available on request. Please contact our customer service.
Structure
Clamping Type
XRP-C
XRP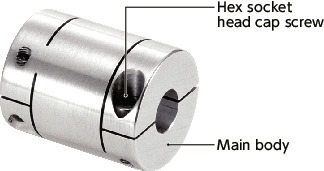 Material/Finish
XRP-C
Main Body
A7075
Hex Socket Head Cap Screw
SCM435
Ferrosoferric Oxide Film (Black)
Characteristics
Recommended Applicable Motor
| | XRP-C |
| --- | --- |
| Servomotor | ◎ |
| Stepping Motor | ◎ |
| General-purpose Motor | ● |
| | XRP-C |
| --- | --- |
| Zero Backlash | ◎ |
| High Torque | ○ |
| High Torsional Stiffness | ◎ |
This is a high precision rigid coupling.
Coaxiality, bore diameter, and run out have been pursued to the ultimate level.
An inspection report is attached to all products before shipment.
Light weight and ultra small moment of inertia. High response. High response.
This is a shaft fastening structure with consideration of rotational balance and unbalance is ultra small.
Extra super duralumin (A7075) featuring the highest strength among aluminum alloy is adopted.
Application
High precision measurement device / High precision XY stage / Encoder

Precautions for Use
In case of mounting on D-cut shaft, be careful about the position of the D-cut surface of the shaft. ⇒Mounting and Maintenance
There are sizes where the hex socket head bolt exceeds the outer diameter of the coupling and the rotating diameter is larger than the outer diameter. Please be careful of the interference of coupling. Rotation Diameter
Selection
Selection Based on Shaft Diameter and Rated Torque
The area bounded by the shaft diameter and rated torque indicates the selection size.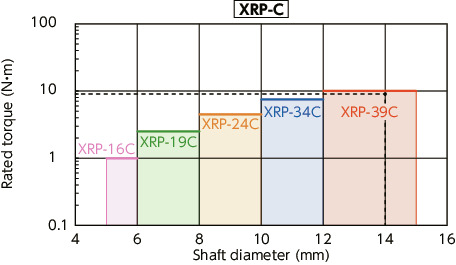 Selection Example
In case of selected parameters of shaft diameter of φ14 and load torque of 9 N・m, the selected size is
XRP-39C
.
Commitment to high precision
The coaxiality of both bores is not more than 3 μm.
Bore diameter tolerance is H6.
Radial run out and run out of end face against bore are not more than 50μm.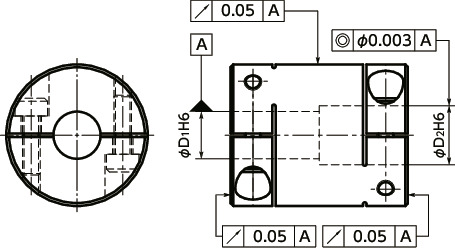 Precision assurance by total inspection that uses 3D measurement device
The inspection is conducted in an environment of constant temperature and humidity.
Inspection item:
Bore diameters D

1

and D

2


Coaxiality of bores D

1

and D

2


Radial run out and run out of end face against bore
3D measurement device:
UPMC850CARAT SuperAcc made by Carl Zeiss


Measurement precision Max. allowable instruction error 0.7+L/600μm




Max. allowable probing error 0.6μm




Measurement environment Temperature 20±1°C




Humidity 50±10%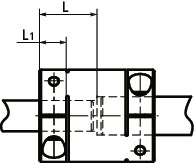 Shaft Insertion Length
The shaft insertion length should be not less than L
1
(clamp portion) and not more than L.
The insertion length of a shaft to maintain the high precision should be L dimension if possible.
However, be careful so that both shaft ends do not interfere with each other.
If the shaft insertion length is less than L
1
, it may derange the coaxiality or generate vibration when fastening the shaft.

Concentricity tolerance and coaxiality tolerance
Property Symbol
Definition of Tolerance Zone
If the symbol φ is attached to the tolerance value, the tolerance zone is regulated by a circle of diameter t. The center of circular tolerance zone coincides with datum A.
If the symbol φ is attached to the tolerance value, the tolerance zone is regulated by a cylinder of diameter t. The axis line of cylindrical tolerance zone coincides with datum A.
◎
Example and explanation of instruction method
The actual (reproduced) center of the outside circle must be within the circle concentric with datum circle A and of 0.1 in diameter.
The actual (reproduced) shaft line of inside cylinder must be within a cylindrical tolerance area coaxial with common datum axis line A-B and of 0.08 in diameter.