Specs/CAD
Part Number

Slip Torque

Slip Torque
Max. Bore Diameter
(mm)
Rated
Torque*1
(N・m)Rated
Torque*1
(lbf in.)
Max. Rotational Frequency
(min-1)
Moment of
Inertia
(kg・m2)*2Moment of
Inertia
(oz. in.2)*2
Static
Torsional
Stiffness
(N・m/rad)Static
Torsional
Stiffness
(lbf in./deg)
Max. Lateral Misalignment
(mm)Max. Lateral Misalignment
(in.)
Max. Angular
Misalignment
(°)
Max. Axial
Misalignment
(mm)Max. Axial
Misalignment
(in.)
Mass
(g) *2Mass
(oz) *2
MWS-32C-10-10

-

-
14

4

35.4
19000
8.1×10

-6

0.443

1100

169.91

-

-
1

±0.2

±0.008

53

1.87
*1: Correction of rated torque due to load fluctuation is not required. For more detailed information, please refer to Selection Guidelines.

※ The shaft's slip torque may be smaller than the coupling's rated torque depending on the shaft bore. MWSMWSSMWS-C
*2: These are values with max. bore diameter.
Slip torque
As in the table below, the clamping types
MWS-C
and
MWSS-C
have different slip torque according to the bore diameter. Take care during selection.
Part Number
Bore Diameter (mm)
4
4.5
5
6
8
10
12
14
MWS-25C
3
3.1
3.5
MWSS-12C
0.3
0.4
0.5
MWSS-20C
0.9
1.9
MWSS-25C
1.2
1.4
1.9
3.1
MWSS-32C
1.9
2.4
3.4
4.1
Structure
MWS
Made of aluminum alloy
MWSS
Made of all stainless steel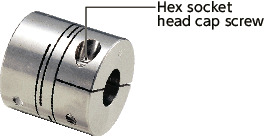 MWS-C
Made of aluminum alloy

MWSS-C
Made of all stainless steel
Material/Finish
MWS-C
Main Body
A2017
Anodized
Hex Socket Set Screw
SCM435
Ferrosoferric Oxide Film (Black)
Hex Socket Head Cap Screw
SCM435
Ferrosoferric Oxide Film (Black)
Characteristics
Recommended Applicable Motor
| | MWS | MWSS |
| --- | --- | --- |
| Servomotor | ● | ● |
| Stepping Motor | ◎ | ◎ |
| General-purpose Motor | ● | ● |
| | MWS | MWSS |
| --- | --- | --- |
| Zero Backlash | ◎ | ◎ |
| High Torque | ○ | ○ |
| High Torsional Stiffness | ○ | ○ |
| Corrosion Resistance (All S.S.) | - | ◎ |
This is a metal spring coupling with single-piece construction. A slit is inserted into a cylindrical material.
A plate spring formed by a slit allows angular misalignment, and end-play to be accepted.
There are two types of units made of aluminum alloy or all stainless steel.
Application
Transport device / XY stage / Parts feeder

Precautions for Use
In case of mounting on D-cut shaft, be careful about the position of the D-cut surface of the shaft.
⇒Mounting and Maintenance
There are sizes where the hex socket head bolt exceeds the outer diameter of the coupling and the rotating diameter is larger than the outer diameter. Please be careful of the interference of coupling.
Selection
Selection Based on Shaft Diameter and Rated Torque
The area bounded by the shaft diameter and rated torque indicates the selection size.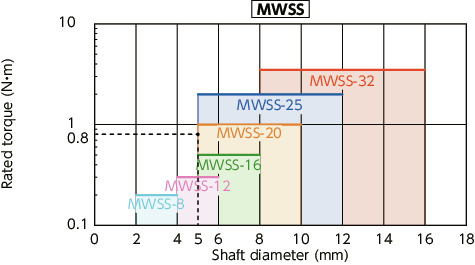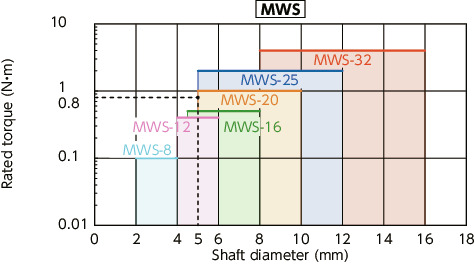 Selection Example
In case of selected parameters of shaft diameter of φ 5 and load torque of 0.8 N•m, the selected size for
MWS
MWSS
is
MWS-20
MWSS-20
.
Thrust reaction force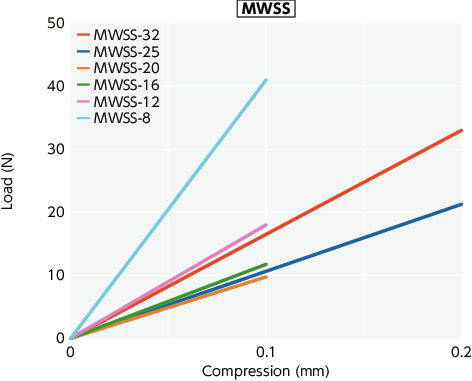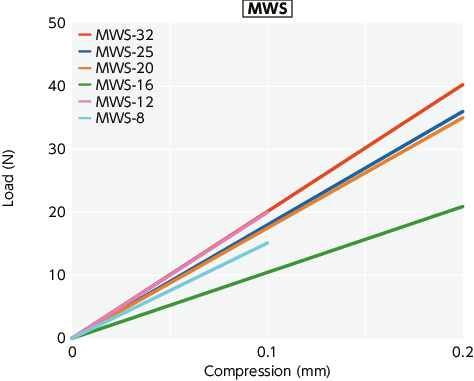 Change in static torsional stiffness due to temperature
This is a value under the condition where the static torsional stiffness at 20°C is 100%. The change of
MWS
and
MWSS
in torsional stiffness due to temperature is small and the change in responsiveness is extremely small. If the unit is used under higher temperature, be careful about misalignment due to elongation or deflection of the shaft associated with thermal expansion.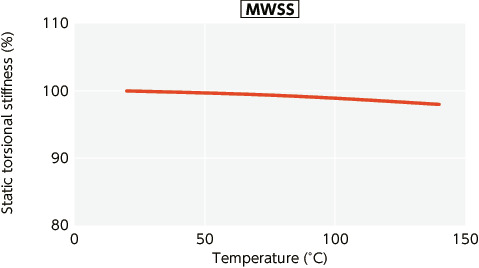 Related Products
A slit-type coupling
XWSS-C
SUS316L material finished with clean washing and clean packaging, which is best suited to FPD and semiconductor manufacturing equipment, is available.
XSTS-C