Hints for Correctly Using NBK Products
The video is an example using KDMS-SC(KDMS-SC). You can perform the same operation using this product.
Specs/CAD
Part Number
D
M (Coarse)
Nominal of Thread
Pitch
Lm
H
L
d1
Mass
(g)
Price
(USD)
CAD
Download
Add to Cart
KUMS-20-M5-10-SC
20
M5
0.8
6
4
10
3.9
11
9.23
CAD
Cart
Nabeya Bi-tech Kaisha
Customer Service
Please enter questions about customization and other product-related inquiries here.
Find the inquiry form here
Characteristics
Captive type knurled knob. Prevents fall-off and loss of the knob.
Foreign matter entry countermeasures in food processing machinery and so on, as well as CE marking support. ()
Made of SUS304. For applications including food processing machinery, packaging machinery, etc., where corrosion resistance is called for.
Flat type.
Precautions for Use
Screw hole inner diameter on the cover side shall be at least d
1
.
The cover thickness should be 0.8 mm or above.
Related Products
Different shapes of captive type knurled knobs are available.
KNMS-SC
KNMS-SC
KUM-SC
KUM-SC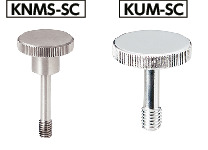 Mounting example
Make a screw hole in the cover, then pass the knob thread through it. Even when the screw is removed from the frame, the knob does not fall out from the cover because the knob thread catches on the screw hole of the cover.