Specs/CAD
Nabeya Bi-tech Kaisha
Customer Service
Please enter questions about customization and other product-related inquiries here.
Find the inquiry form here
Material/Finish
SSB-A
Thread
Part
Equivalent to S45C, Sphere Part Quenching (Hardness: 45 HRC or Above)
Ferrosoferric Oxide Film (Black)
Nut
SS400
Trivalent Chromate Treatment
Characteristics
Screw tip is round.
Round part has already been quenched. It is highly abrasion-resistant.
All products are provided with lock nut.
Usage Example
Use the lock nut on an opposite side of the side that receives the force.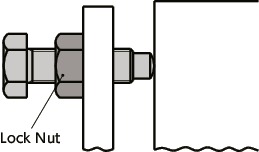 Related Products
A locating block
SBN
is available for stopper bolt mounting.
SBN