Specs/CAD
Nabeya Bi-tech Kaisha
Customer Service
Please enter questions about customization and other product-related inquiries here.
Find the inquiry form here
Material/Finish
SSBS-B

Made of Stainless Steel

Thread Part
SUS410
Nitriding Treatment (Hardness: 40 HRC or Higher)
Nut
SUS304
Characteristics
Hexagon head is round.
Round part has already been quenched. It is highly abrasion-resistant.
All products are provided with lock nut.
Usage Example
Use the lock nut on an opposite side of the side that receives the force.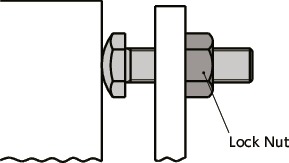 Related Products
The stop pin with excellent abrasion resistance
SPM
is available for the stopper bolt recipient.
SPM