Specs/CAD
Part Number
M (Coarse)
L
D1
L1
B
d
max.
Qty per Pack
Mass
(g)
Price
(USD)
CAD
Download
Standard
Nominal of Thread
Pitch
SVST-M3-16
M3
0.5
16
5.5
3
2.5
1.2
1
0.66
17.94
CAD
Cart
Nabeya Bi-tech Kaisha
Customer Service
Please enter questions about customization and other product-related inquiries here.
Find the inquiry form here
Related Services
Material/Finish
| | SVST |
| --- | --- |
| Main Body | TB340C(Grade 2 Titanium) |
Application
Vacuum devices, vacuum chambers, FPD production equipment,
semiconductor devices, and electron microscopes

Characteristics
The ventilation hole easily releases gas trapped in the screw holes of equipment and machines, and supports vacuum drawing of vacuum devices.
Chemical polishing and brightening processing improve the quality of the surface. Outgas quantity is extremely low.
Nonmagnetic.
Cleanroom wash and cleanroom packing are completed.⇒Cleanroom Wash / Cleanroom Packing Service
The features of brightening processing and titanium⇒Properties of Titanium
Usage Example
Gas trapped at the bottom of a screw hole is released through
SVST
, and gas trapped in a drilled hole is released through
SWAT-VF
(SWAT-VF).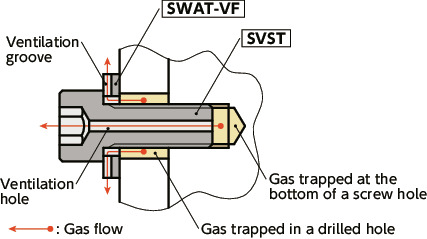 Related Products
SNST
Titanium Socket Head Cap Screw without Ventilation hole is available.
SNST