Specs/CAD
Hints for Correctly Using NBK Products
The video is an example using SKND(SKND). You can perform the same operation using this product.
Material/Finish
SKND-PH
Body Plate
Carbon Steel
Electroless Nickel Plating
Bit Retaining Bracket
Carbon Tool Steel
Electroless Nickel Plating
Bit
Alloy Steel
Chrome Plating

*1
Application
Attaching and removing screws in limited access spaces of equipment, devices, and vehicles

Characteristics
Thin screwdriver with a cross-recessed socket and plate-shaped handle.
Can be used in limited access spaces.
Usable in spaces where regular screwdrivers/wrenches cannot be used, it helps reduce work hours for removing peripheral components, etc.
Required working space is decreased, so device/equipment structure can also be made more compact.
Pressing the handle with fingers helps prevent cam-out.
Precautions for Use
Do not use for any applications other than for turning screws.
Do not use in locations exposed to live wires, as it is made of metal.
Use a bit that matches the recess shape of the screw.
Always observe the usage method on this page.
Usage
Take a firm grasp on the handle for use.
For cross-recessed sockets, press manually while working to prevent cam-out from occurring.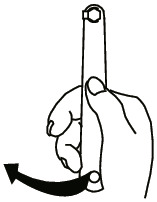 Stable work can be achieved when there is working space above the screw by pressing on the bit.