Specs/CAD
Hints for Correctly Using NBK Products
Material/Finish
SKND
Body Plate
Carbon Steel
Electroless Nickel Plating
Bit Retaining Bracket
Carbon Tool Steel
Electroless Nickel Plating
Bit
Alloy Steel
Electroless Nickel Plating
Application
Attaching and removing screws in limited access spaces of equipment, devices, and vehicles

Characteristics
Thin screwdriver with a hex socket and plate-shaped handle.
Can be used in limited access spaces.
Usable in spaces where regular screwdrivers/wrenches cannot be used, it helps reduce work hours for removing peripheral components, etc.
Required working space is decreased, so device/equipment structure can also be made more compact.
Pressing the handle with fingers helps prevent cam-out.
Precautions for Use
Do not use for any applications other than for turning screws.
Do not use in locations exposed to live wires, as it is made of metal.
Use a bit that matches the recess shape of the screw.
Always observe the usage method on this page.
Usage
Take a firm grasp on the handle for use.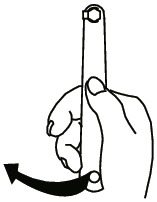 Stable work can be achieved when there is working space above the screw by pressing on the bit.