Hints for Correctly Using NBK Products
Material/Finish
SKX-N
Main Body
SKS4 Equivalent (Hardness: 58HRC or Higher)
Electroless Nickel Plating
Application
Attaching and removing hexalobular screws in limited access spaces of equipment, devices, and vehicles

Characteristics
A hexalobular wrench with a handle shorter than that of normal wrenches, reducing height during operation.
Can be used in limited access spaces.
Designed with a bend angle of 98°. Space to grip the wrench during operation is secured. Can be used in locations where objects below the long handle cause interference.
Usable in spaces where regular screwdrivers/wrenches cannot be used, it helps reduce work hours for removing peripheral components for work, etc.
Required working space is decreased, so device/equipment structure can also be made more compact.
* The hexalobular shape is prescribed by JIS B 1015:2008 (ISO 10664:2005) "Hexalobular internal driving feature for bolts and screws".
Usage Example
The 98° bend angle reduces interference between the screw mounting surface and the hand.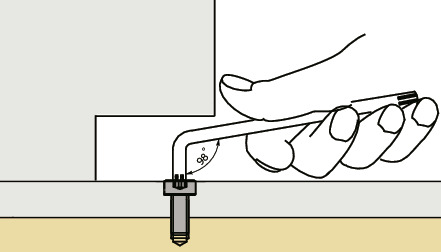 If an object below the long handle is interfering, the end of the long handle can be gripped to make operation easier.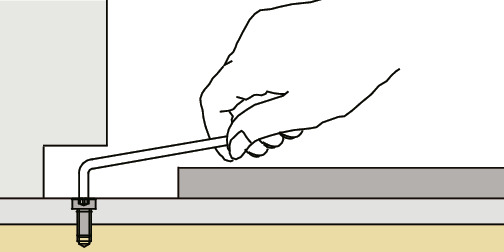 Precautions for Use
Do not use for any applications other than for turning screws.
Do not use in locations exposed to live wires, as it is made of metal.
Take a firm grasp on the wrench handle for use.
Applicable Hexalobular Socket Head Screws
Part Number
Applicable Hexalobular Socket Head Screws

SSTS


SSTS

SET

SETS


SET-NI SET-BNI SETS

SLT

SLTS


SLT-TZB SLTS

SLEC-A


SLEC-A SLEC-A-EL

SLEC-B


SLEC-B SLEC-B-EL

SNPXS


SNPXS

SNFXS


SNFXS

SET-TZB(INCH)


SET-TZB(INCH)
SKX-4N
SETS-M2
SKX-5N
SSTS-M2
SETS-M2.6
SKX-6N
SSTS-M2.5
SET-M3
SETS-M3
SLTS-M2
SNPXS-M2
SNFXS-M2
SET-#6-32-TZB
SKX-8N
SSTS-M3
SET-M4
SETS-M4
SLTS-M2.5
SNPXS-M2.5
SNFXS-M2.5
SET-#8-32-TZB
SET-#10-24-TZB
SET-#10-32-TZB
SKX-10N
SSTS-M4
SET-M5
SETS-M5
SLT-M3-TZB
SLTS-M3
SLEC-M3-A
SLEC-M3-B
SNPXS-M3
SNFXS-M3
SKX-15N
SSTS-M5
SLEC-M4-A
SLEC-M4-B
SKX-20N
SSTS-M6
SETS-M6
SLT-M4-TZB
SLTS-M4
SLEC-M5-A
SLEC-M5-B
SNPXS-M4
SNFXS-M4
SKX-25N
SSTS-M8
SLT-M5-TZB
SLTS-M5
SLEC-M6-A
SLEC-M6-B
SNPXS-M5
SNFXS-M5