Specs/CAD
Select
# Nominal of Thread
●All dimensions are in inches.
Nabeya Bi-tech Kaisha
Customer Service
Please enter questions about customization and other product-related inquiries here.
Find the inquiry form here
Related Services
Material/Finish
| | SETS (INCH) |
| --- | --- |
| Main Body | SUSXM7 (Equivalent to SUS304) |
Application
Reducing the size of equipment and devices
Equipment and devices using inch screw specifications

Characteristics
Hexalobular socket

*1

head cap screw with extra low profile.
All head heights are 1 mm (0.04 in) or less.
For space-saving of equipment/devices and applications with limited overhead space.
Hexalobular socket shapes

*1

are designed to withstand high tightening torque. ⇒Features of the Hexalobular Socket
Install and remove with

SKX

Dedicated Wrench or

SKXB

Dedicated Bit and

SRD

Dedicated Magnetic Screwdriver together.
Use the

SKX-N

hexalobular wrench for extremely limited access spaces for mounting and removing in tight spaces.
We manufacture products with special specifications such as ventilation holes, nylon patches, cleanroom washing and special packaging.
⇒We can make a screw like this one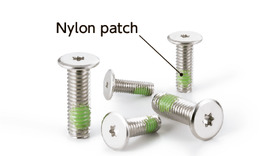 *1: The hexalobular shape is prescribed by JIS B 1015: 2008(ISO 10664: 2005)"Hexalobular internal driving feature for bolts and screws".