Hints for Correctly Using NBK Products
The video is an example using SLEC-A-EL(SLEC-A-EL). You can perform the same operation using this product.
Specs/CAD
Part Number
M
D1
L1
L2
d
L3
e
Key Part No.
Hexalobular Socket No.
t
Qty per Pack
Mass
(g)
Price
(USD)
CAD
Download
Standard
SLEC-M3-B-EL
M3
6.8
2.5
6
3.35

-0.016~+0.008

4
0.4
SKX-10
10
1
1
0.82
5.21
CAD
Cart
SLEC-M4-B-EL
M4
7
3
7
4.5

-0.016~+0.008

5
0.4
SKX-15
15
1.2
1
1.9
5.84
CAD
Cart
SLEC-M5-B-EL
M5
8.5
4
10
5.5

-0.016~+0.008

6
0.4
SKX-20
20
1.5
1
3.3
5.53
CAD
Cart
SLEC-M6-B-EL
M6
10
4
12
6.5

-0.020~+0.007

8
0.5
SKX-25
25
2
1
6
5.84
CAD
Cart
SLEC-M8-B-EL
M8
13
5
16
8.5

-0.020~+0.007

9
0.8
SKX-30
30
2.5
1
14.3
6.93
CAD
Cart
Nabeya Bi-tech Kaisha
Customer Service
Please enter questions about customization and other product-related inquiries here.
Find the inquiry form here
Related Services
Material/Finish
SLEC-B-EL
Main Body
SCM435
Electroless Nickel Plating
Strength Class
10.9
Application
Fixing linear guideway rails / Fixing workpieces and jigs / Fine positional adjustment of heavy objects

Characteristics
When the screw is tightened, the workpiece is strongly clamped by the head, which is decentered from the shaft center of the screw. The wedge effect creates a large clamping force with low tightening torque.
The hexalobular

*1

shape can withstand high tightening torque.
⇒Features of the Hexalobular Socket
Use a dedicated wrench

SKX

for mounting and removing.
Use the

SKX-N

hexalobular wrench for extremely limited access spaces for mounting and removing in tight spaces.
Suitable for fixing linear guideway rails. As the decentered head presses the linear guideway rail against the installation reference surface, precision can be easily achieved when mounting. Also, mounting accuracy is maintained by suppressing warping and misalignment caused by long-term use.

SLEC-B-EL

is an electroless nickel plating type. For applications that require corrosion resistance.
*1: The hexalobular shape is prescribed by JIS B 1015: 2008(ISO 10664: 2005)"Hexalobular internal driving feature for bolts and screws".
Since the precision - processed guide receives the clamping load, durability during clamping is increased.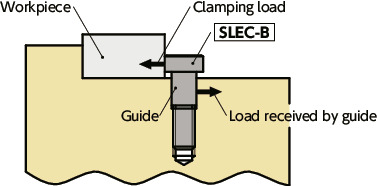 Usage Example
Fixing workpieces and jigs.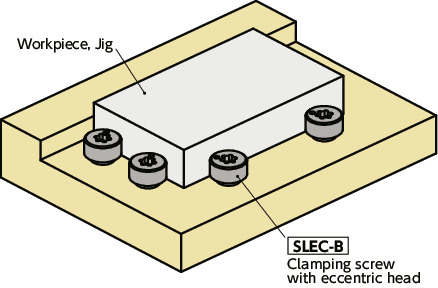 Mounting Method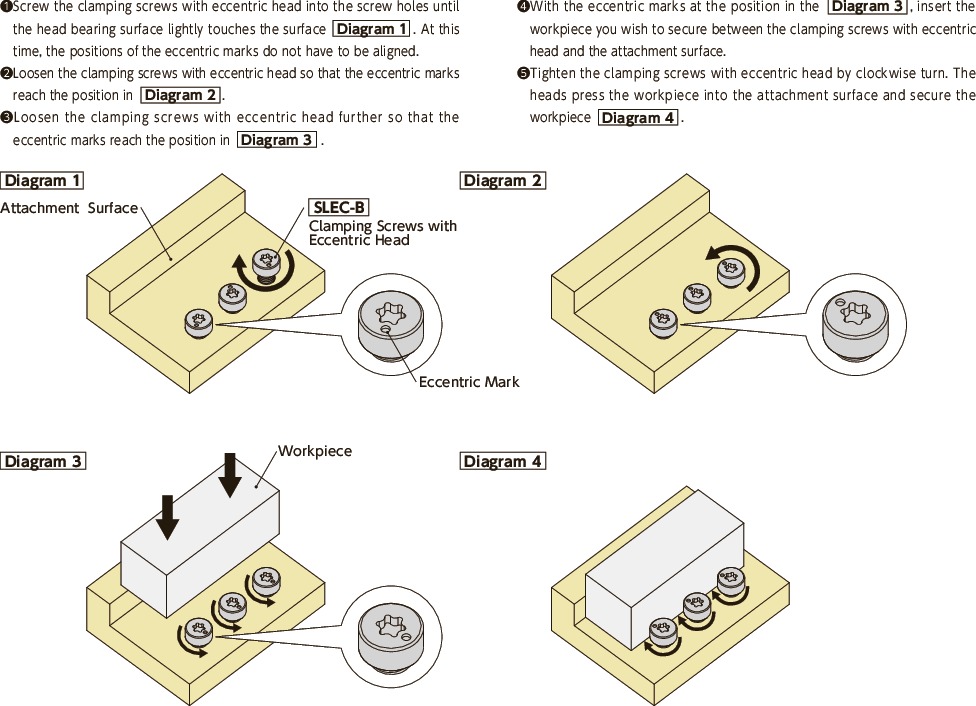 Mounting Dimensions
Part Number
E
M
B H8
Adjustment Range
min./max.
s max.
SLEC-M3-B-EL
3.1

0~+0.3

M3
3.35
-0.1/0.7
3.3
SLEC-M4-B-EL
3.15

0~+0.3

M4
4.5
-0.05/0.75
4.1
SLEC-M5-B-EL
3.9

0~+0.3

M5
5.5
-0.05/0.75
5.3
SLEC-M6-B-EL
4.65

0~+0.3

M6
6.5
-0.15/0.85
5.5
SLEC-M8-B-EL
6.05

0~+0.5

M8
8.5
-0.35/1.25
7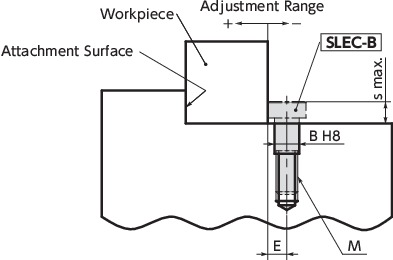 Recommended size of linear guideway rail
Nominal of Rail
Rail Width
W
Applicable Clamping Screws with Eccentric Head
#9
9
SLEC-M3-B
SLEC-M4-B
#12
12
SLEC-M3-B
SLEC-M4-B
#15
15
SLEC-M3-B
SLEC-M4-B
#20
20
SLEC-M4-B
SLEC-M5-B
#25
23
SLEC-M5-B
SLEC-M6-B
#30
28
SLEC-M6-B
SLEC-M8-B
#35
34
SLEC-M8-B