Specs/CAD
Select
# Nominal of Thread
Part Number
# Nominal of Thread
L
D1
L1
Applicable Wrench
Hexalobular
Socket
No.
t
Max.
Torque
(N・m)
Qty per Pack
Mass
(g)
Price
(USD)
CAD
Download
Standard
SET-#6-32-1/4-TZB
No.6-32UNC
1/4
0.295
0.034
SKX-6
6
0.029
0.95
10
0.48
3.98
CAD
Cart
SET-#6-32-3/8-TZB
No.6-32UNC
3/8
0.295
0.034
SKX-6
6
0.029
0.95
10
0.7
4.10
CAD
Cart
SET-#6-32-1/2-TZB
No.6-32UNC
1/2
0.295
0.034
SKX-6
6
0.029
0.95
10
0.9
4.23
CAD
Cart
SET-#6-32-3/4-TZB
No.6-32UNC
3/4
0.295
0.034
SKX-6
6
0.029
0.95
10
1.2
4.34
CAD
Cart
SET-#8-32-1/4-TZB
No.8-32UNC
1/4
0.315
0.036
SKX-8
8
0.035
2.3
10
0.78
4.73
CAD
Cart
SET-#8-32-3/8-TZB
No.8-32UNC
3/8
0.315
0.036
SKX-8
8
0.035
2.3
10
0.98
4.73
CAD
Cart
SET-#8-32-1/2-TZB
No.8-32UNC
1/2
0.315
0.036
SKX-8
8
0.035
2.3
10
1.3
5.00
CAD
Cart
SET-#8-32-3/4-TZB
No.8-32UNC
3/4
0.315
0.036
SKX-8
8
0.035
2.3
10
1.9
5.00
CAD
Cart
SET-#10-24-1/2-TZB
No.10-24UNC
1/2
0.335
0.038
SKX-8
8
0.035
2.4
10
1.6
5.12
CAD
Cart
SET-#10-24-5/8-TZB
No.10-24UNC
5/8
0.335
0.038
SKX-8
8
0.035
2.4
10
1.9
5.26
CAD
Cart
SET-#10-24-3/4-TZB
No.10-24UNC
3/4
0.335
0.038
SKX-8
8
0.035
2.4
10
2.3
5.26
CAD
Cart
SET-#10-32-1/2-TZB
No.10-32UNF
1/2
0.335
0.038
SKX-8
8
0.035
2.4
10
1.7
5.12
CAD
Cart
SET-#10-32-5/8-TZB
No.10-32UNF
5/8
0.335
0.038
SKX-8
8
0.035
2.4
10
2.1
5.26
CAD
Cart
SET-#10-32-3/4-TZB
No.10-32UNF
3/4
0.335
0.038
SKX-8
8
0.035
2.4
10
2.4
5.26
CAD
Cart
●All dimensions are in inches.
● When purchasing less volume than one full bag, a separate handling fee is charged. For details, see the Sold Separately Service.
Nabeya Bi-tech Kaisha
Customer Service
Please enter questions about customization and other product-related inquiries here.
Find the inquiry form here
Related Services
Material/Finish
SET-TZB (INCH)
Main Body
Steel
Trivalent Chromate Treatment
Application
Reducing the size of equipment and devices
Equipment and devices using inch screw specifications

Characteristics
Hexalobular socket

*1

head cap screw with extra low profile.
All head heights are 1 mm (0.04 in) or less.
For space-saving of equipment/devices and applications with limited overhead space.
Hexalobular socket shapes

*1

are designed to withstand high tightening torque. ⇒Features of the Hexalobular Socket
For mounting and removing, use a hexalobular wrench

SKX

(SKX),

SKX-N

(SKX-N) or a hexalobular short bit

SKXB

(SKXB).
We manufacture products with special specifications such as ventilation holes, nylon patches, cleanroom washing and special packaging.
⇒We can make a screw like this one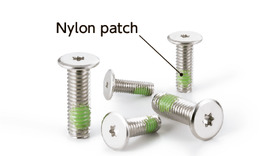 *1: The hexalobular shape is prescribed by JIS B 1015: 2008(ISO 10664: 2005)"Hexalobular internal driving feature for bolts and screws".