Hints for Correctly Using NBK Products
Specs/CAD
Nabeya Bi-tech Kaisha
Customer Service
Please enter questions about customization and other product-related inquiries here.
Find the inquiry form here
Related Services
Material/Finish
SSC-SET
Hex Socket Head Cap
Captive Screw
Main Body
SUSXM7 (Equivalent to SUS304)
Strength Class
A2 - 70
Captive Washer
SUS304

*1
Application
Screw fall/loss prevention / Fixing of protection covers and covers for inspection / Compliance with CE marking
Machine tools / Food machinery / Electrical and electronic equipment / Infrastructure facilities / Redundant safety measures / Redundant fall prevention

Characteristics
Set of Hex Socket Head Cap Captive Screw

SSC

and Captive Washer

SWAS-SC

.
Even when the screw is removed from the frame,

SSC

does not fall out of the cover because the washer hook catches on the screw thread. Even if

SWAS-SC

is damaged, the

SSC

thread part will catch, for double prevention of screw fall-off and loss.
For CE Marking compatibility.⇒Use the NBK Captive Screw Series to be comply with CE
Usage Example
When a screw mounted on a cover is removed from the frame, thanks to the redundant fall protection of the captive screw and captive washer, the screw does not fall.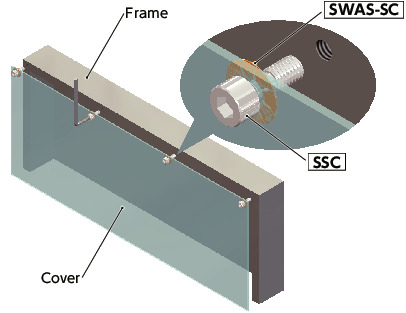 Precautions for Use
Screw hole inner diameter on the cover side shall be at least the dc dimension.
The cover thickness should be 0.8 mm or above.
Once

SWAS-SC

is mounted on a screw, it cannot be easily removed.
To remove, either

SWAS-SC

or screw must be cut. Take care when mounting.
When the screw is loosened with

SWAS-SC

pressed to the cover,

SWAS-SC

may come off.
Mounting Example
① Make a screw hole in the cover, and then pass the
SSC
thread part through it.
② Press-fit
SWAS-SC
into the thread part from the screw tip side. Ensure that the
SWAS-SC
hooks face the frame side. When mounting, use the dedicated tool
SKSC
(sold separately). For the frame side female thread chamfering, refer to
Table 1
.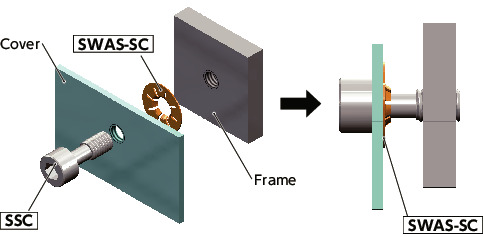 Table 1
| Part Number | Applicable Washer | C |
| --- | --- | --- |
| SSC-M3-SET | SWAS-3-SC | 1.5-2 |
| SSC-M4-SET | SWAS-4-SC | 1.5-2 |
| SSC-M5-SET | SWAS-5-SC | 1.5-2 |
| SSC-M6-SET | SWAS-6-SC | 1.5-2 |
| SSC-M8-SET | SWAS-8-SC | 1.5-2 |
Related Products
Use
SKSC
for captive washer mounting.
SKSC