Hints for Correctly Using NBK Products
Specs/CAD
Nabeya Bi-tech Kaisha
Customer Service
Please enter questions about customization and other product-related inquiries here.
Find the inquiry form here
Related Services
Material/Finish
SSC
Main Body
SUSXM7
(Equivalent to SUS304)
Strength Class
A2-70
Application
Securement of protective and inspection covers and compliance
with CE marked products
Machine tools, food industry machines, and
electrical and electronic equipment

Characteristics
The shape of the screws prevent them from falling out and loss. For fixing protective and inspection covers that are frequently installed and removed.
Socket head cap screw type.
These items comply with CE marking requirements.⇒Use the NBK Captive Screw Series to be comply with CE
Also, captive screws with special specifications for dimensions, shapes, materials, and surface treatments are available.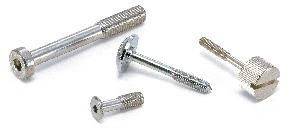 Precautions for Use
Screw hole inner diameter on the cover side shall be at least the dc dimension.
The cover thickness should be 0.8 mm or above.
Mounting Example
Process a screw hole in the cover, then pass
SSC
thread through it. Even when the screw is removed from the frame,
SSC
does not fall out from the cover because
SSC
thread catches on the screw hole of the cover.