Specs/CAD
Part Number
M
Nominal of Thread
Pitch
Coarse/Fine
M1
Nominal of Thread
Pitch
Coarse/Fine
L
Key Quantity
Dedicated Mounting Tool
Removal Drill Diameter
Removal Depth
Mass (g)
Price
(USD)
CAD
Download
QTY
(Piece)
SHINS-M4-M8
M4
0.7
Coarse
M4
1.25
Coarse
8
2
SKK-45
5.5
4
1.8
28.70
CAD
Cart
SHINS-M5-M8
M5
0.8
Coarse
M5
1.25
Coarse
8
2
SKK-45
5.5
4
1.4
20.54
CAD
Cart
SHINS-M6-M10
M6
1
Coarse
M6
1.25
Fine
10
2
SKK-6
7.5
5
3.1
21.73
CAD
Cart
SHINS-M8-M12
M8
1.25
Coarse
M8
1.25
Fine
12
4
SKK-8
9.5
5
4.8
22.84
CAD
Cart
SHINS-M10-M14
M10
1.5
Coarse
M10
1.5
Fine
14
4
SKK-10
11.5
5
6.7
24.37
CAD
Cart
SHINS-M12-M16
M12
1.75
Coarse
M12
1.5
Fine
16
4
SKK-12
13.5
5
8.9
28.70
CAD
Cart
Related Services
Material/Finish
| | SHINS |
| --- | --- |
| Main Body | SUS303 |
| Key | SUS302 |
Application
Reinforcement/repair of female threading
Equipment and device structures / General industrial machines

Characteristics
A keyed female-thread reinforcing insert.
The key mechanically locks the rotation so there is no risk of it falling out.
With the high strength of integrated stainless steel, it is usable for firm fastening or in areas where bolts are frequently fastened and removed.
It is ideal for reinforcing female threading in light metals, castings, resin etc., as well as for repairing damaged female threading.
No special technique is required for insertion.
Mounting is even easier than with coil-type inserts. Use the dedicated tool

SKK

(SKK).
Coil-type inserts and special surface treatment specifications are also available. Please contact our customer service.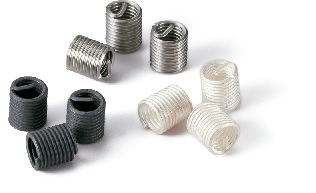 Mounting
Set the key in the dedicated mounting tool hole, and screw the insert into the female thread.

Diagram 1

Remove the key from the dedicated tool hole. With the key in contact with the dedicated tool end face, drive in the key using a hand press or hammer.

Diagram 2

When projection of the key is a concern, the key can be pushed in beyond the chamfered portion by reversing the dedicated tool and driving the key in using the knurled end face.

Diagram 3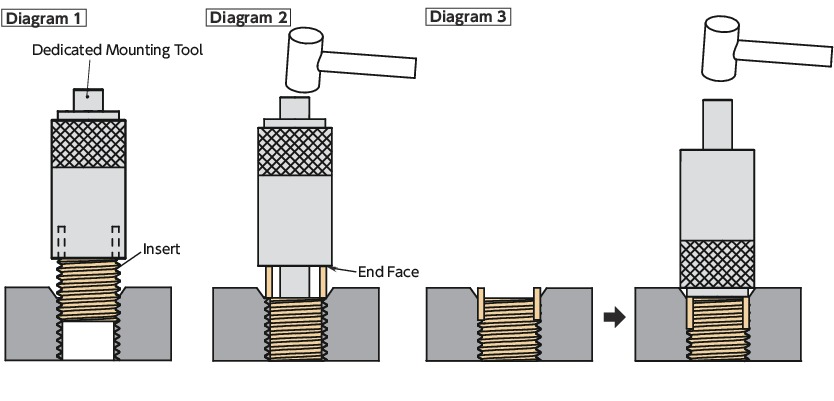 Removal
Machine to the depth specified in the dimension table, using the specified drill size.

Diagram 1

Tip the key over in the hole, break it, and remove it.

Diagram 2

Remove the insert using a commercially available bolt remover or similar.

Diagram 3

Mount a new insert following the mounting method.

Diagram 4