Specs/CAD
Part Number
Nominal
d
D
t
h
Qty per Pack
Mass
(g)
Price
(USD)
CAD
Download
QTY
(Piece)
SWR-2
2
2.2

0~+0.3

4

-0.3~0

0.35
0.6
10
0.02
5.40
CAD
Cart
SWR-2.5
2.5
2.7

0~+0.3

4.8

-0.3~0

0.45
0.9
10
0.04
6.28
CAD
Cart
SWR-3
3
3.2

0~+0.3

5.5

-0.3~0

0.45
0.9
20
0.05
6.58
CAD
Cart
SWR-4
4
4.3

0~+0.3

7

-0.36~0

0.5
1
20
0.08
6.89
CAD
Cart
SWR-5
5
5.3

0~+0.3

9

-0.36~0

0.6
1.1
20
0.14
7.15
CAD
Cart
SWR-6
6
6.4

0~+0.36

10

-0.36~0

0.7
1.2
20
0.23
8.30
CAD
Cart
SWR-8
8
8.4

0~+0.36

13

-0.43~0

0.8
1.4
10
0.43
5.99
CAD
Cart
SWR-10
10
10.5

0~+0.43

16

-0.43~0

1
1.6
10
0.82
6.70
CAD
Cart
SWR-12
12
13

0~+0.43

18

-0.43~0

1.1
1.7
10
0.89
7.73
CAD
Cart
SWR-16
16
17

0~+0.43

24

-0.52~0

1.3
2.1
10
2
13.18
CAD
Cart
SWR-20
20
21

0~+0.52

30

-0.62~0

1.5
2.4
5
3.4
14.42
CAD
Cart
Related Services
Material/Finish
SWR
Main Body
Spring Steel(Hardness: 380-450 HV)
Ferrosoferric Oxide Film (Black)
Application
Vibration Resistant

Characteristics
Ribs on both sides of the washer hook onto the bolt bearing surface and intended attachment section to prevent looseness due to vibration.
Washers for loosing prevention. For connecting locations that cannot use other means such as adhesives.
More effective for loosing prevention than standard spring washers.
Precautions for Use
Ribs may not hook into some connecting locations, depending on their material. Confirm in advance that the ribs will hook.

Mounting Method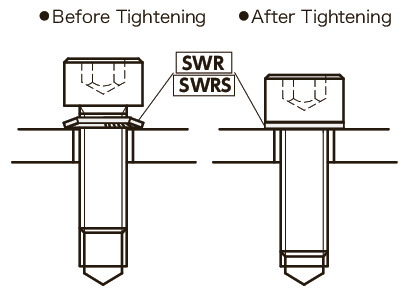 Vibration Test Comparison
Test Hexagon Screws:DIN933-8.8-M10-35、Vibration:15Hz、Amplitude:0.5mm