Material/Finish
SWS-HTF
Main Body
SUS304
PTFE(Polytetrafluoroethylene) Coating
Rubber Packing
Fluoro-rubber
Application
FPD production equipment / Semiconductor fabrication wet processes /
Printed circuit board etching devices / Metallic surface treatment
equipment and facilities / Cleaning equipment / Chemical plants

Characteristics
Sealing washers with a built-in rubber seal.
Sealing washers prevent the leakage of gas and liquid from the bearing surface of the screw head.
The washer body is coated with PTFE (Polytetrafluoroethylene). The rubber seal is made of fluororubber, which has excellent chemical resistance.
Chemical Resistance of PTFE Coating⇒Chemical Resistance of Chemical Resistance Screws
Usage Example
Use with
SNHS-HTF
Hex Head Screws-PTFE Coating for Head
(SNHS-HTF) to prevent chemical liquids from moving from the bearing surface to the thread.
Airtight test at 0.6 MPa confirmed that there is no leakage.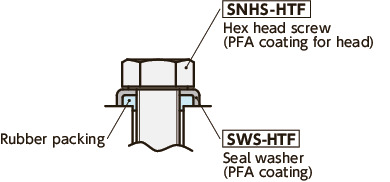 Precautions for Use
Friction with the screw bearing surface during tightening may remove the coating. Take care not to tighten too much.
When combining with

SNHS-HTF

, use the recommendation torque of

SNHS-HTF

or less for tightening.