Specs/CAD
Select
#
Nominal of Thread
Nabeya Bi-tech Kaisha
Customer Service
Please enter questions about customization and other product-related inquiries here.
Find the inquiry form here
Related Services
Material/Finish
| | SNSS-SD(INCH) |
| --- | --- |
| Main Body | Equivalent to SUS304 |
| Strength Class | A2-50 |
Application
Reducing the size of equipment and devices which use inch threads

Characteristics
Hex socket head cap screws with small head diameter. Able to reduce the spot facing diameters compared to standard hex socket head cap screws.
Inch screw type.
Install and remove by using

SKH(INCH)

(SKH(INCH) Dedicated Hex Key.
Usage Example
It is possible to perform spot facing and hide the head in locations
where spot facing is not possible with standard hex socket head cap screws.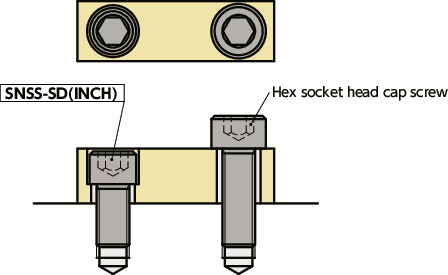 Precautions for Use
Since the head bearing surface area is small, the bearing surface pressure increases.
Using the following formula as a reference, ensure that the bearing surface pressure due to screw tightening does not exceed the permitted surface pressure of the intended fastening material.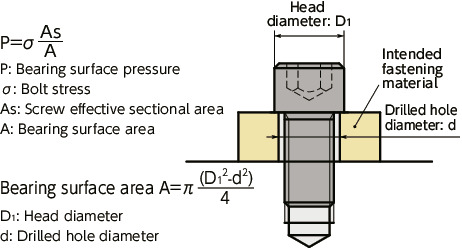 Screw Effective Sectional Area
Part Number
Screw Effective Sectional Area (in

2

)
Screw Effective Sectional Area (mm

2

)
SNSS-#4-40-SD
0.0061
3.95
SNSS-#6-32-SD
0.0092
5.95
SNSS-#8-32-SD
0.014
9.15
SNSS-#10-24-SD
0.018
11.5
SNSS-#10-32-SD
0.02
13
SNSS-1/4-20-SD
0.032
20.8
SNSS-5/16-18-SD
0.053
34.2
Related Products
Hex keys dedicated for inch threads
SKH(INCH)
are available.
SKH(INCH)