Specs/CAD
Nabeya Bi-tech Kaisha
Customer Service
Please enter questions about customization and other product-related inquiries here.
Find the inquiry form here
Related Services
Material/Finish
SCX-C
SCX-H
Main Body
Al

2

O

3

(99.5% Alumina)
Al

2

O

3

(99.5% Alumina)
Application
FPD production equipment, semiconductor devices, printed circuit board etching devices,
metallic surface treatment equipment and facilities, and chemical plants

Characteristics
Ceramic made from 99.5% high-purity alumina.
Usable continually at 1500°C.
Types can be selected by the end symbol of the part number.


SCX-C

----Socket Head Cap Screws


SCX-H

----Hex Head Screws
Excellent heat resistance, chemical resistance, and electrical insulation.
The properties of ceramic screws⇒The Properties of Ceramic Screws
Also, ceramics screws with special specifications such as ventilation holes, dimensions, shapes, and cleanroom washing are available. Please contact us for details.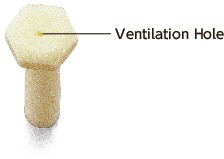 Precautions for Use
When tightening ceramic screws, use a torque driver or torque wrench and do not exceed the torsional torque. The recommendation torque is 50% of the torsional torque.
| M | Torsional Torque(N・m) |
| --- | --- |
| M3 | 0.04 |
| M4 | 0.05 |
| M5 | 0.10 |
| M6 | 0.15 |
| M8 | 0.30 |
| M10 | 0.50 |
Ceramic screws may be damaged by impact. Takecare when handling these screws.
Because a cumulative pitch difference is created when ceramic screws are manufactured, use them with

SCX-N

ceramic nuts.