Specs/CAD
Nabeya Bi-tech Kaisha
Customer Service
Please enter questions about customization and other product-related inquiries here.
Find the inquiry form here
Related Services
Material/Finish
| | SNSX-88 |
| --- | --- |
| Main Body | SUS316L HiMo |
| Strength Class | 8.8 |
Application
FPD production equipment, semiconductor devices, sputtering
equipment, aquatic applications, and general industrial machines

Characteristics
High intensity socket head cap screws are made of stainless steel. (Strength Class 8.8 or 10.9)
For applications that require both high strength and corrosion resistance.
High strength per a screw is useful for space and weight saving by decreasing thread diameter and number.
Screws with excellent heat resistance and corrosion resistance.
Nonmagnetic.
Mechanical Properties
Part Number・Strength Class\Property
Tensile Strength
(N/mm

2

)
0.2% Proof Stress
(N/mm

2

)
Elongation after Break Minimum
(mm)
A2-50・A4-50
500
210
0.6d
A2-70・A4-70
700
450
0.4d

SNSX-88

8.8
800
640
0.3d

SNSX-109

10.9
1,000
900
0.2d
Result of corrosion test by metal materials
SUS316L HiMo steel used in
SNSX
is a special steel alloy with reduced carbon and increased Cr, Ni, and Mo. Reducing carbon shows an increased resistance to grain boundary corrosion cracking, and adding Cr and Mo increases resistance to pitting corrosion and crevice corrosion. In addition, adding Ni effectively reduces the risk of stress corrosion cracking.
The chart below shows the degree of corrosion after 10 years of exposure to conditions similar to seawater environment, and there was no corrosion for CR3 or lower.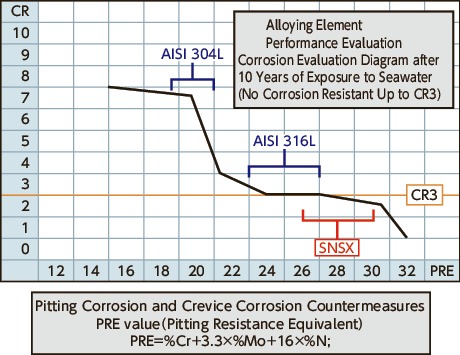 Sulfuric acid corrosion test (H2SO4, 50°C and mm / year)
Part Number・Material\Density
3%
10%
20%
SUS304
1.08
3
-
SUS316、SUS316L
0
0.3
1.3

SNSX-88

SNSX-109

0
0
0.44
Magnetic Permeability Comparison
Part Number / Material
Magnetic Permeability

SNSX-88

SUS316L HiMo
1.006

SNSX-109

SUS316L HiMo
1.007

SNSL

SUS316L
1.006
SUSXM7
1.4