Specs/CAD
Part Number
Nominal
D
d
B
C
t1
t2
t
Reference tightening torque
(N・m)
Qty per pack
Mass
(g)
Price
(USD)
CAD
Download
QTY
(Piece)
SWAS-6-EW
6
12
6.05
11.6
13.3
2.65
2.9
3.9
10
100
1.5
110.28
CAD
Cart
SWAS-8-EW
8
17
8.1
15
17.3
3.3
3.9
5.1
28
100
3.5
145.67
CAD
Cart
SWAS-10-EW
10
21
10.2
19.8
22.8
4.05
4.8
6.2
55
100
7.2
196.75
CAD
Cart
SWAS-12-EW
12
24
12.2
22
25.4
4.5
6
7.5
90
100
11
301.25
CAD
Cart
Nabeya Bi-tech Kaisha
Customer Service
Please enter questions about customization and other product-related inquiries here.
Find the inquiry form here
Eccentric Lock Washer TM Comparison test: Anti loosening performance ※without sound
Related Services
Material/Finish
| | SWAS-EW |
| --- | --- |
| Receiving Washer | SUS304 |
| Eccentric Washer | SUS304 |
Application
Vibration resistant treatment

Characteristics
Vibration resistant treatment effect can be achieved simply by using commercially available hexagon nuts.
Hexagon nuts can be tightened by hand until tightening force applies, for simple mounting.
Use the receiving washer and eccentric washer as a set.
Passes NAS-type vibration tests (NAS3350).
Vibration resistant treatment effect has also been confirmed with the Junker test.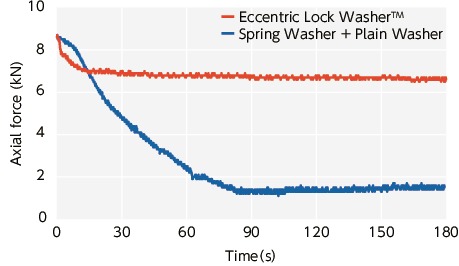 Test conditions

Bolt size: M10-40
Distance between washer surfaces: 24mm
Amplitude: ±0.43mm
Vibration: 3.3Hz
Test time: 180 sec
Precautions for Use
Dedicated for hexagon nuts. Do not use on head side of hexagon head bolts.
After tightening, use bolts with length sufficient to ensure screw thread pitches of 3 or more extending beyond the hexagon nuts.
Do not use with other washers such as plain washers.
When using half-thread bolts, confirm that the eccentric washer is in the screw thread part.
Bolt damage may ensue due to product properties.