Material/Finish
SKCD
Shaft Part

*1

Alloy Steel
Zinc Phosphate Film
Grip Core Part
Polypropylene
Grip

*2

Thermoplastic Rubber
Application
For narrow areas where screws cannot be retained by hand, during assembly/maintenance of devices, equipment, vehicles and so on

Characteristics
A screwdriver which holds hex socket head cap screws.
Prevents screws from falling during work through the friction between the nylon resin injected into the tip and the hex socket.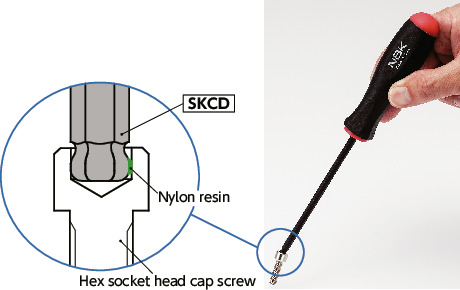 Because the tip uses a ball point, it can be used at a tilted angle of up to 25° to the hex socket.
Unlike magnetic holding methods, it can be used with screws of any material. There is also no adherence of foreign matter due to tip magnetism.
It is also effective when removing screws in deep counterbore holes or areas that are hard to reach.
Usage Example
For areas with interference or deep narrow spaces, where screws cannot be retained by hand.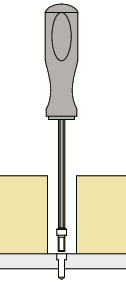 For spaces where interference makes it impossible to use tools perpendicularly to the screw.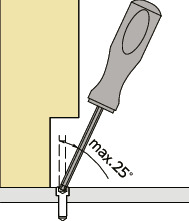 Precautions for Use
Use a size matching the hex socket shape.
Retention may not be possible according to the dimensions and specifications of the hex socket.
Do not use for final tightening or loosening.
Do not use in locations exposed to live wires, as it is made of metal.
Do not use for any applications other than for turning screws.
Always observe the usage method on this page.
Usage
The screw will be retained by the tip when the tip

SKCD

is inserted firmly and fully into the hex socket of the screw.
Turn manually to mount screws in screw holes, as with a standard screwdriver.
After mounting the screw, pull

SKCD

to free the tip from the hex socket.