Part Number
Included Bit Size
Ratchet Part Tooth No.
Mass*1 (g)
Price
(USD)
CAD
Download
QTY
(Piece)
Cross-Recessed Nominal Number
Nominal of Width Across Flats
SKNBR-6.35-8SET
0・1・2
2・2.5・3・4・5
52
54.9
43.61
CAD
Cart
*1: Total mass of bit ratchet handle/bit/bit holder.
Bit for Hex Sockets Dimension Table
B
Nominal of Width Across Flats
H
2
2.5
2.5
3
3
3.5
4
5
5
6
Material/Finish
SKNBR-6.35-8SET
Bit Ratchet Handle Main Body
Alloy Steel
Chrome Plating
Ratchet Part
Alloy Steel
Manganese Phosphate Film
Magnet
Neodymium
Chrome Plating
Bit
Alloy Steel
Nickel Plating
Bit Holder
Polyethylene (Black)
Application
Attaching and removing screws in limited access spaces of equipment, devices, and vehicles

Characteristics
This is a short-length bit and dedicated bit ratchet handle set. With the bit mounted to the ratchet part, the height is approximately 17 mm, making it suitable for limited access spaces.

The ratchet mechanism eliminates the need to re-insert the bit in the recess of the screw, enabling continuous screw turning. The 52 teeth on the ratchet part allow the handle to be moved back and forth in approximately 7° intervals, making it also suitable for narrow spaces that limit the rotation direction.
Usable in spaces where regular screwdrivers/wrenches cannot be used, it helps reduce work hours for removing peripheral components, etc.
Required working space is decreased, so device/equipment structure can also be made more compact.
3 bits for cross-recessed sockets and 5 bits for hex sockets are supplied, for a total of 8 bits.
Temporary tightening work can be done by holding the black ring on the ratchet between your fingers and turning. Can also be used as a screwdriver by inserting the bit into the grip part.

Usage Example
For spaces with limited height.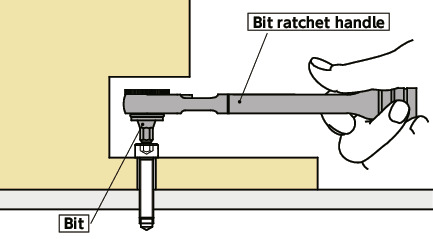 For spaces with limited rotation space where regular wrenches cannot be used.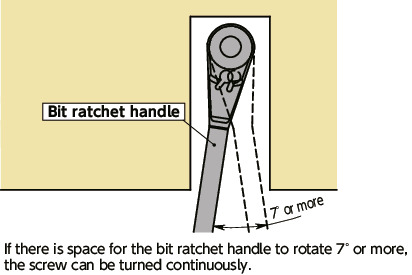 Precautions for Use
Do not use bits for extremely limited access spaces in commercial bit-interchangeable tools. Due to the short bit length, it may be difficult to remove.
Do not use in locations exposed to live wires, as it is made of metal.
Do not use for any applications other than for turning screws.
Use a bit that matches the recess shape of the screw.
During screw turning work, do not perform switching lever operation.
Usage
① Insert the supplied bit into the ratchet part.② Operate the switching lever, and switch the rotation direction to match the gears inside the ratchet part.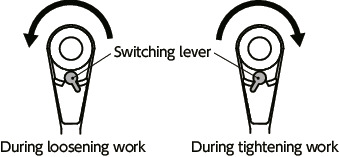 ③ Firmly insert the tip of the bit into the recess of the screw, operate the handle back and forth while holding the grip part, and perform the screw tightening work.