Specs/CAD
● Batch cleanroom packing is provided for orders containing multiple items of the same size.
Nabeya Bi-tech Kaisha
Customer Service
Please enter questions about customization and other product-related inquiries here.
Find the inquiry form here
Related Services
Material/Finish
SVSL-PN
Main Body
SUS316L
Surface hardening treatment
Strength Class
A4-70
Application
Seizing Prevention
Vacuum devices / Vacuum chambers / FPD production equipment /
Semiconductor devices / Electron microscopes / Food industry machines

Characteristics
The ventilation hole easily releases gas trapped in the screw holes of equipment and machines, and supports vacuum drawing of vacuum devices.
Hardening the screw surface prevents screw seizing / sticking.
Unlike platings or coatings, there is nothing adhering to the surface, eliminating concerns about contamination due to stripping during tightening.
Suitable for prevention of seizing in environments where lubrication cannot be used.
Cleanroom washed and packed. ⇒Cleanroom Wash / Cleanroom Packing Service
Usage Example
Gas trapped at the bottom of a screw hole is released through
SVSL-PN
, and gas trapped in a drilled hole is released through
SWAS-VF
(
SWAS-VF
SWAS-VF-PC
).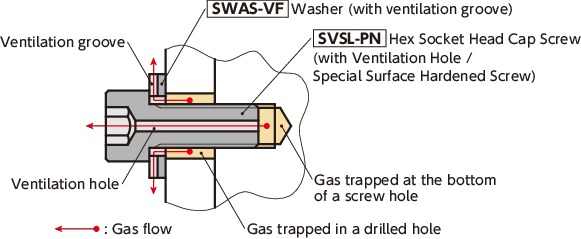 Precautions for Use
May have lower corrosion resistance than general SUS316L.
We recommend performing a test under the same usage conditions as in actual usage in advance.