Date Published:Sep. 27. 2016 Date Updated:Apr. 15. 2019
Vol.3 Functional Screw Surface Treatments Are Not Just for Corrosion Resistance

Hello. Nedzigon's back!
Are you familiar with all the possible surface treatments for screws?
Typically, Unichrome and nickel plating are used for corrosion resistance.
However, Vol.1 Thinking about "Galling and Seizing" talks about surface treatments for preventing seizing, reminding us that Surface treatments are used for purposes beyond corrosion resistance.
"Black Stainless Steel" Surface Treatment for Anti-Reflection
As the name suggests, Black Stainless Steel is a deep black finish for stainless steel surfaces which uses a passivation membrane 200 times thicker than normal.
It has an extremely low reflectivity of 1.5%, making it the optimal surface treatment for optical devices requiring diffused reflection prevention.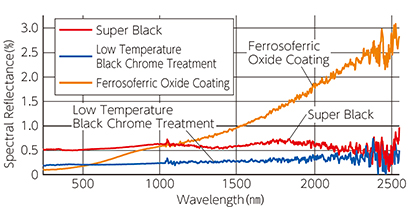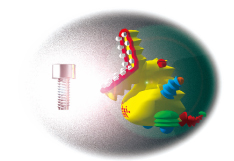 Additionally, Black Stainless Steel's corrosion resistance is excellent, being 32 times that of SUS304 and 8 times even that of SUS316L.
>>Corrosion Resistance Comparison with Black Stainless Steel

Furthermore, because the film contains no impurities, outgassing in vacuum environments is minimal, and it can be used in vacuum equipment.
PTFE Coating is Not Just for Seizing Prevention
For the effects of surface treatment on seizing prevention, see Vol.1 Thinking about "Galling and Seizing"
Among these, PTFE Coating is a highly effective surface treatment for seizing prevention.
>>Comparison of axial force with regard to different surface treatments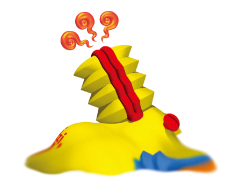 Decorative Surface Treatments
Surface treatments can also be used for decorative purposes.
Gold Plating
As the name suggests, this is a surface treatment in which the material surface is coated in gold. Gold is a substance resistant to oxidation, widely used for decoration because its appearance is more constant.
Additionally, its characteristics also include good conduction of electricity and heat, making it an asset for electronic components.
Chrome Plating
Chrome plating has a glossy finish as well as high hardness with excellent wear resistance, making it suitable for long-term decoration.
Colored Anodizing
Colored anodization soaks dye into the micropores of surfaces treatable with normal anodization to add color. Anodizing treatment is a surface treatment that produces oxidized film on aluminum surfaces, which means, unlike plating, it is almost totally resistant to peeling.

I'll fill you in on more interesting surface treatments next time!

That's all for today.

Issue/case studies
Vibration prevention/high precision
Heat resistance/corrosion resistance
Elegant functionality/design
Machine Tools
Semiconductor Manufacturing Equipment
Food Machinery
Automotive Manufacturing Process
Medical Equipment
FA Devices
Solution samples
What is a Screw?
Special Screws