Specs/CAD
Part Number
M (Coarse)
Nominal of Thread
Pitch
L
D1
L1
B
Tension Rupture
Load (N)*1
Torsional
Torque
(N・m)*1
Qty per Pack
Mass
(g)
CAD
Download
RFQ
SPEG-M5-12-C
M5
0.8
12
8.5
5
4
1756
1.45
10
0.57
CAD
RFQ
*1: Values in chart are for reference only. They are not guaranteed values. The recommended tightening torque is 50% of the torsional torque.
Nabeya Bi-tech Kaisha
Customer Service
Please enter questions about customization and other product-related inquiries here.
Find the inquiry form here
● When purchasing less volume than one full bag, a separate handling fee is charged. For details, see the Sold Separately Service.
Related Service
Material/Finish
SPEG-C
Main Body
PEEK GF30 (PEEK Containing Glass Fiber) (Light Brown)
(Glass Fiber 30%)
Heat Resistance
Temperature

*1

260°C
Application
FPD production equipment / Semiconductor devices / Printed circuit board etching devices /
Metallic surface treatment equipment and facilities / Chemical plants / Transformers / Electrical and electronic equipment / Hot water pumps /
Chemical pumps

Characteristics
Hex socket head cap screws made of PEEK containing glass fiber for increased strength. The tensile strength of the material is approximately 1.7 times that of ordinary PEEK.
PEEK is a thermoplastic super engineering plastic superior in physical and chemical properties.
Excellent chemical resistance. It remains almost unaffected by chemicals other than concentrated sulfuric acid, concentrated nitric acid, and concentrated hydrofluoric acid.
With excellent heat resistance and water resistance, it retains strength at high temperatures.
It features outstanding resistance to wear, shock, and fatigue.
It also has high flame retardance which clears the UL 94 V-0 standard.
The properties and precautions of plastic screws ⇒Plastic Screws
Knurling on the head of

SPEG-C

has been eliminated in order to distinguish it from PEEK hex socket head cap screw

SPE-C

that contains no glass fiber.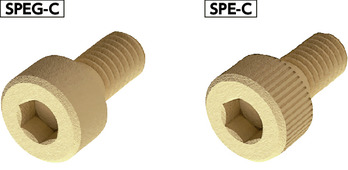 Precautions for Use
Because a cumulative pitch difference is created when PEEK screws are manufactured, use a 20 mm or less fit with female thread.

Related Products
PEEK hex socket head cap screws
SPE-C
are available.
SPE-C