Specs/CAD
Material/Finish
DPU
Pull
SS400
Chrome Plating
Base
SPHC
Cationic Electrodeposition
Hex Socket Head Cap Screw
(M5 x 10 mm)
SUSXM7
Characteristics
Pulls for display angle operations.
The display takes less moment than normally.
The angle can be adjusted without worring about display damages.
Chrome plating for beautiful finishing.
The mounting holes conform to VESA standards.
Either of 75 mm x 75 mm and 100 mm x 100 mm can be used.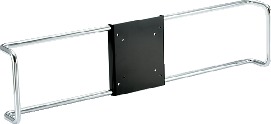 Structure