Date Published:Dec. 28. 2022 Date Updated:Aug. 29. 2023
All you need to know about the roles and types of washers!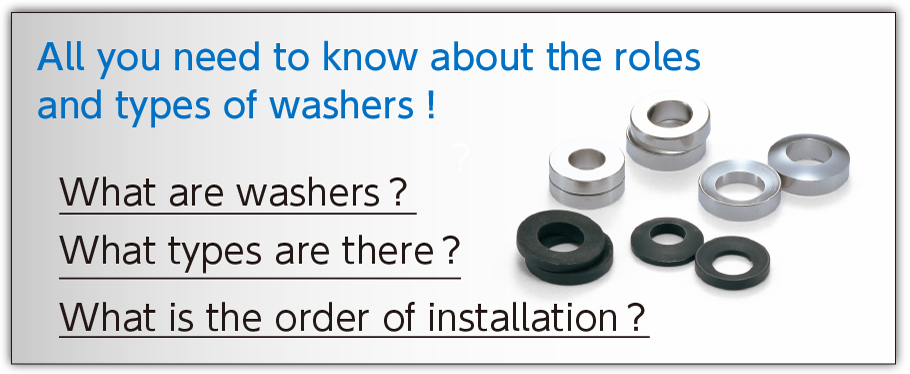 What are washers?
Washers are the metal plates between screws being tightened and the object to which they are fastened, generally used for anti-loosening applications.
Types include plain washers and spring washers.
The characteristics of plain washers include their ability to increase the screw seating surface area when sandwiched under the screw, reducing the surface pressure on the fastened object (substrate).
Spring washers result from cutting out part of a plain washer so that the washer forms a twisted shape. They are sandwiched between bolts and nuts, etc., for use, and generally considered to help prevent screws from loosening.


NBK has a particularly wide lineup of plain washers.
As noted above, the characteristics of plain washers include their ability increase the screw seating surface area and thus reduce the surface pressure on the fastened object.
Therefore, the risk of seating surface sinking and the resulting looseness can be reduced.
They are effective when the fastened object material is soft, or when the contact surface between the screw seating surface and the fastened object is small.
They also help prevent damage to the fastened object. Using a plain washer can prevent screw hole rotation scratches on the fastened object.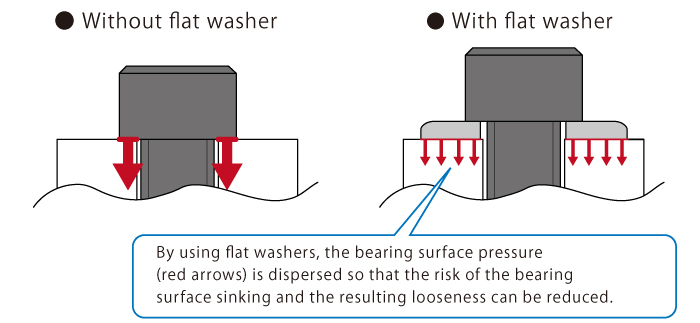 Order when mounting washers
The general order when mounting washers is "spring washer" --> "plain washer."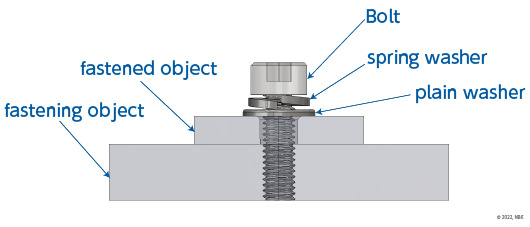 Washer dimensions
Washer dimensions differ according to the different sizes in standards such as JIS and ISO.

The pages below cover dimensions regulated by JIS standards.
Find plain washer dimensions/shapes (JIS B: 1256:2008) here
Find spring washer dimensions/shapes (JIS B: 1251:2018) here
Washer types
NBK offers a variety of unique washers.
You'll find particularly recommended products introduced as well.

Adjust Metal Washer
・These washers differ from the JIS or ISO standard dimensions.
・For height adjustment or seating surface sinking prevention.
・For securing seating surface on the long hole position and engagement of materials with low marginal seating surface pressure such as aluminum and resin.
・As a collar and a spacer, it can adjust the cumulative error in assembly.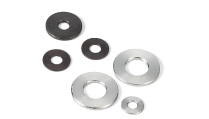 SWA-AW (Steel - Ferrosoferric Oxide Film)
SWA-AWEL (Steel - Electroless Nickel Plating)
SWAS-AW (Stainless Steel)
SWAS-AWBK (Stainless Steel Black)
Spherical Washers
・For absorption of misalignment of bolt and seating surface.
・The contact seating surface of the two washers is a special convex/concave spherical shape.
・The bolt and seating surface tilt can be absorbed. (SQW supports up to 2°, SQWS up to 3°)

SQW (Stainless Steel)
SQWS (SUS304)

Captive Washers
・Prevents screw fall-off and loss simply by assembling it onto a commercially available screw.
・The washer hooks securely catch the thread peaks so that after mounting, they will be unlikely to fall off the screws.
・They are intended for the fixing bolts on protective and inspection covers that are frequently mounted and removed.
・For CE Marking compatibility.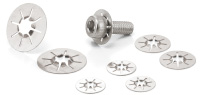 Seal Washer
・Sealing washers with a built-in rubber seal.
・Washers prevent the leakage of gas and liquid from the bearing surface of the screw head.


The allowable operating temperature and properties vary according to the rubber packing material.

SWS (Rubber Packing Material:NBR)
SWS-F (Rubber Packing Material:Fluoro-rubber)
SWS-E (Rubber Packing Material:EPDM)
SWS-S (Rubber Packing Material:Silicone rubber)
SWS-HFT (Rubber Packing Material:Fluoro-rubber, PTFE Coating)

Washers for High Strength Stainless Steel Bolts
・Hardness is 300 HV or higher. Even higher hardness than general stainless steel plain washers.
・Suited to use with stainless steel bolts of tensile strength 800N/mm2~1000N/mm2*1.
・Use in combination with high strength stainless steel hex socket head cap screws  SNSLG, SNSX-88 or SNSX-109 .
・Made of SUS316L. It has excellent corrosion resistance.

*1:JIS B 1256 "Plain washers" regulates plain washer hardness categories and applicable fasteners.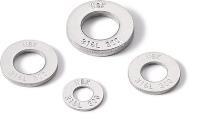 Eccentric Lock Washer
・Vibration resistant treatment effect can be achieved simply by using commercially available hexagon nuts.
・The hex nut can be tightened by hand until tightening force is generated, making it easier to mount.
・The NAS vibration test (NAS3350) has been passed, and loosening-prevention performance has been demonstrated by the Junker vibration test.  >>Details available here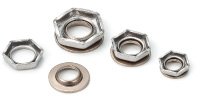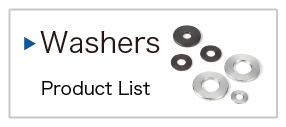 Find related articles on washers here
Product Introduction
Others
Machine Tools
Semiconductor Manufacturing Equipment
Food Machinery
Automotive Manufacturing Process
Medical Equipment
FA Devices
Description of Special Screws for Engineers
Special Screws