Date Published:Jul. 08. 2016
Turn Commercially Available Nuts into "Hex Lock Nuts" with Eccentric Lock Washers™

Eccentric Lock Washers™
Eccentric Lock Washers™ are washers that can be combined with commercially available hex nuts to prevent screw loosening.
These washers do not require a special tool for fastening, making them as easy to use as spring washers or flat washers.
The high performance of these loosening-prevention washers has been tested by Junker and NAS vibration tests.
Structure
Eccentric Lock Washers™ consist of a bearing washer and an eccentric washer.
When the eccentric washer is wedged into a bolt, the bearing washer changes the commercially available hex nut into an anti-loosening nut according to the following principle, exerting the loosening prevention effect.
Locking Principle
① By tightening the hex nut, the eccentric washer wedges into the bolt. ② The bearing washer presses the hexagon nut into the bolt. ③ As the bearing washer pushes the hexagon nut, the frictional force between the hexagon nut and the bolt increases, preventing looseness.



Anti-Loosening Effect Comparison Test
※No Audio
4 Benefits of Using Eccentric Lock Washers™
(1) Easy fastening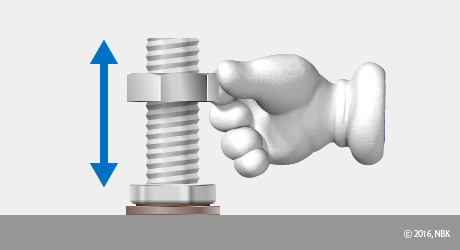 The hex nut can be tightened by hand until tightening force is generated, then use a wrench to tighten.
(2) Fasten with commercially available hex nut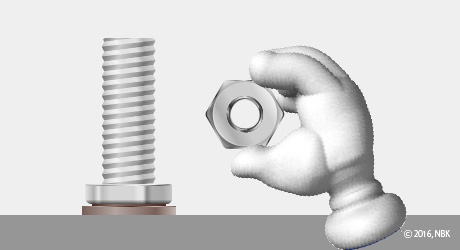 Commercially available hex nuts transform into anti-loosening nuts simply by being used in combination with Eccentric Lock Washers!
High loosening-prevention performance has been tested by the NAS vibration test.
(3) Works with both fine threads and left threads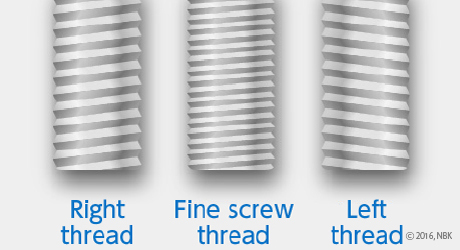 These washers can also be used with fine threads and left threads.
(4) Easy to replace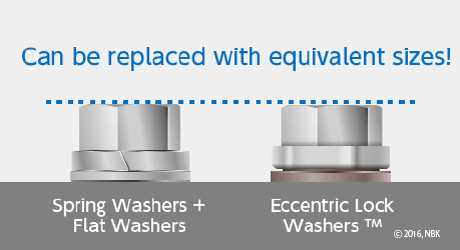 Eccentric Lock Washers are the same height as commercially available spring washers and flat washers; therefore, are compatible and can be replaced.
Height comparison
| Target | M6 | M8 | M10 | M12 |
| --- | --- | --- | --- | --- |
| Class 1 Nut + Eccentric Lock WasherTM | 8 | 10.4 | 12.4 | 15.2 |
| Class 1 Nut + Spring Washer + Flat Washer | 8.1 | 10.1 | 12.5 | 15.5 |

NAS Vibration Test Results
The Eccentric Lock Washers succeeded during the NAS vibration test (NAS3350).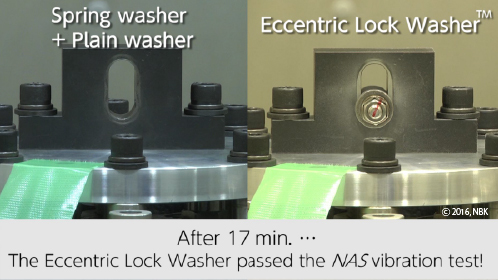 Loosening-prevention performance has been tested by the Junker vibration test.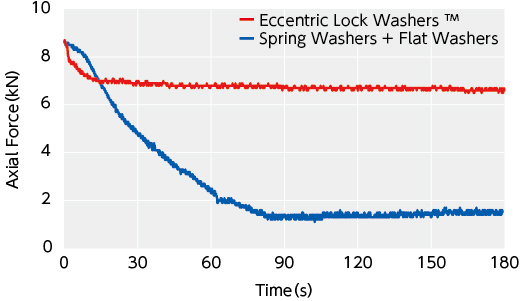 Test conditions
Bolt size: M10 to 40
Distance between bearing surfaces: 24mm
Amplitude: ±0.43mm
Vibration: 3.3Hz
Test time: 180 sec
Additional Services
We can wash and pack your products in a cleanroom. This is suggested for products used in FPD production devices, semiconductor manufacturing devices, medical equipment, food and beverage machinery and even products that will be used in cleanrooms.
See more details >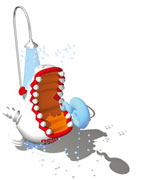 Issue/case studies
Safety measures/precautionary measures
Machine Tools
Semiconductor Manufacturing Equipment
Food Machinery
Automotive Manufacturing Process
Medical Equipment
FA Devices
Solution samples
Special Screws