Specs/CAD
● Fixing rubber sheet is attached.
Structure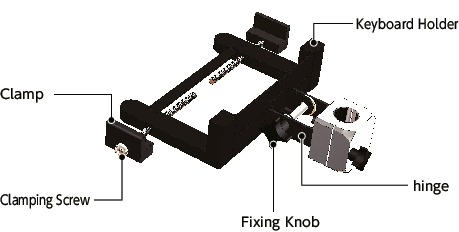 Material/Finish
DKBR-AF
DKBR-AA/DKBR-PB
Keyboard Holder
AC4C-F
Electrostatic Coating
Hinge
SPCC
Electrostatic Coating
Fixing Knob
Nylon 6
Clamp
AC4C-F
Electrostatic Coating
Clamping Screw
SWRCH
Trivalent Chromate Treatment
Mounting Plate
SPCC
Electrostatic Coating
-
Bracket
-
A6063
Anodized
Characteristics
Keyboard mounting system of the single axis type.
By tightening the clamping screw, the keyboard is securely fixed and prevent from falling.
B5 size laptops and 500 mm wide keyboard can be loaded.
For counterpart, three types of Mounting System for Display are available.
For aluminum frame / For wall panel and sheet metal ----DKBR-

AF


For aluminum frame end mounting ----DKBR-

AA


For round pipe ----DKBR-

PB

Clamp screws of two sizes (Phillips cross recessed pan head machine screws) are supplied.
M6 x 40: Used when the keyboard width is 256 mm to 280 mm.
M6 x 140: Used when the keyboard width is 280 mm to 500 mm.
It can be tilted by 90° in upward direction.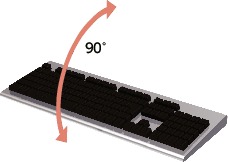 Application
Machine tool / Medical equipment / FPD production device / Semiconductor manufacturing device / Packing machine / Food machinery

Option
A mouse holder

DKM

is available as an option.
This may be mounted on either side.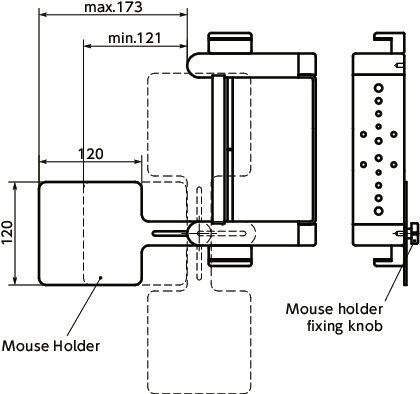 | Part Number | Mass(g) |
| --- | --- |
| DKM | 310 |
Material/Finish
DKM
Mouse Holder
SPCC
Cation Painting
Mouse Holder Fixing Knob
Nylon 6