Specs/CAD
Part Number
M (Fine)
Nominal of Thread
Pitch
L
s
L1
L2
L3
D1
D
Db
P
Applicable Wrench
Load (N)
Min./Max.
Mass
(g)
Price
(USD)
CAD
Download
Add to Cart
BRPMS-16-S
M16
1.5
14
1.5
1.5
9
1.5
19
13.5
5.56
15.4
BRW-10
23 / 30
18
31.13
CAD
Cart
BRPMS-20-S
M20
1.5
17
2.5
1.5
10
2
24
16.5
8.73
18.5
BRW-12
24 / 38
30
34.74
CAD
Cart
BRPMS-24-S
M24
1.5
21.5
3.5
1.5
12
2
28
20.5
10.32
24
BRW-16
24 / 55
54
39.59
CAD
Cart
Nabeya Bi-tech Kaisha
Customer Service
Please enter questions about customization and other product-related inquiries here.
Find the inquiry form here
Characteristics
These are flange type ball rollers with spring plunger function.
The attachment height can be easily determined.
Install and remove by using

BRW

Specialty Wrench.
Their internal springs receive loads evenly even when the load is unbalanced.
These rollers can also be used as a general spring plunger with ball for fixing and locating workpiece. The smooth rotation of the ball reduces friction between the main ball and receiving side.
Material/Finish
| | BRPMS-S |
| --- | --- |
| Main Body | SUS304 |
| Main Ball | SUS440C(Hardness 55HRC or Higher) |
| Sub Ball | SUS440C(Hardness 55HRC or Higher) |
| Spacer | SUS304 |
| Casing | SUS304 |
| Spring | SUS631J1 |
Application
Conveyance, fixing and locating work, torque limiting, and indexing

Precautions for Use
These ball rollers are for upward applications only. If it is used for downward and sideward applications, the product may be damaged or the ball may malfunction.
The bottom section moves the stroke distance of the main ball. Take care with the depth of the attachment hole.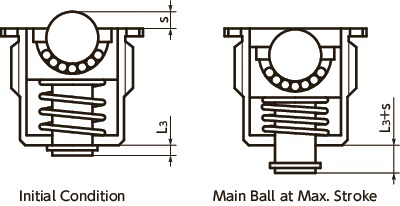 Dedicated Wrench
Part Number
L
L

1

L

2

B
C
D
d
P
Mass (g)
BRW-10
25
1.4
8
19
3
18.5
10
15.4
55
BRW-12
30
1.4
10
24
4
22
12
18.5
102
BRW-16
35
1.4
12
27
6
27
17
24
153
BRW-20
40
1.4
14
30
7
33
20
29.6
220