Material/Finish
LUDM-LW
Lever Part
Nylon 6 (Various Color)
Thread Part
SUM22L
Ferrosoferric Oxide Film (Black)
Plain Washer
SUS303
Setscrew
Steel
Ferrosoferric Oxide Film (Black)
Serration Ring
Zinc Die Cast
Spring
Stainless Steel Wire
Characteristics
Double arm type plastic clamp lever with plain washer.
Plain washers are built into the relief cut section to prevent them from falling off. This also eliminates the need to mount washers.
The outside diameter of the plain washer is about 3 times the screw diameter. This provides a sufficient seating surface for the tightening area.
Suitable for tightening resin components or slotted components where the seating surface pressure cannot be increased.
Designed to incorporate the 7 principles of Universal Design. The shape allows easy operation and application of force.
Universal Design ⇒Universal design UDEX® series
Rotating radius is about half that of conventional plastic clamp levers. Space-saving.
The zinc die cast serration ring is inserted into the plastic lever main unit. It achieves sufficient fitting strength with the metal screw serrations.
Five color variations support the color universal design of machines and devices. Two-tone color: dark gray and various colors.
Lever part colors can be selected by the end symbol of the part number.
| End Symbol | Lever Part Color |
| --- | --- |
| BK | Matte Black |
| SG | Matte Silver |
| OR | Matte Orange |
| BL | Matte Blue |
| YW | Matte Yellow |
Only takes a minute to understand! How to Use Clamp Levers.
Precautions for Use
Before tightening the lever, make sure that the plain washers are located at the relief cut section as shown in
Fig. 1
. Tightening the plain washer while hooked on the screw thread as shown in
Fig. 2
may cause the plain washer to be deformed.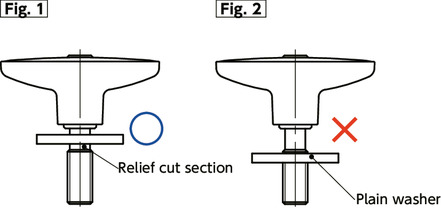 Usage Example
For tightening slotted components.