Specs/CAD
Collar (hex socket set screw with key) is provided.
Characteristics
Measuring unit
Correct digital display of the feed rate is possible by just setting it to the feed rotation axis.
Preset function to set the current value to the home position is provided.
The custom decimal point position can be set (range from 1 to 0.0001 mm).
It can be applied to any lead value by setting the parameter.
It can be converted to millimeter or inch.
A nonvolatile memory stores the count value / the parameter setting values for 10 years.
100 V AC (50 / 60 Hz) supported.
Dust-proof structure is provided, however, it is not protected from water / oil.
Front: IP62
Back: IP50
Bore diameter of the attached collar is φ9 mm. Shaft hole processing can be performed upon the order. Please feel free to contact our customer service.
Bore diameter collar whose shaft hole is already processed

RNCL-R

(optional) is available.
Performance
Max. Number of
Display Digits
Six digits / Red seven segment LED
Range of Count
Length measurement:
999999 ~ -99999 Angle ±360.00°
Count Mode
Length measurement: Decimal,
binary Angle in sexagesimal: 1 / 5 / 10 minute(s)
Angle in decimal: 0.01 / 0.1 / 1° for reading
Position of Decimal Point
Custom setting by parameter
Lead Value
Custom setting by parameter
Memory
Nonvolatile memory, backup for 10 years
Max. Allowable Speed
700 min

-1

Power Source
100 V AC ± 10 % (50 / 60 Hz)
Power Code
With 2 m plug
Power Consumption
2.2 W
Vibration-resistance
49 m/s

2

for 30 minutes
Shock-resistance
Durability 294 m/s

2

,
three times each for X / Y and Z direction
Range of Allowable
Operating Temperature
0℃ to 45℃
Range of Storage
Temperature
-20℃ to 80℃
Mounting
Process the mounting base in accordance with the mounting-pilot section of the main body (φ82

0 to +0.054

) (Recommended dimension: φ82

f7

).
Process the collar to match the shaft diameter.
Bore diameter collar

RNCL-R

(optional) is available.
After mounting the shaft to the collar, set-in the main body to the mounting base, and then secure it with fixing screws.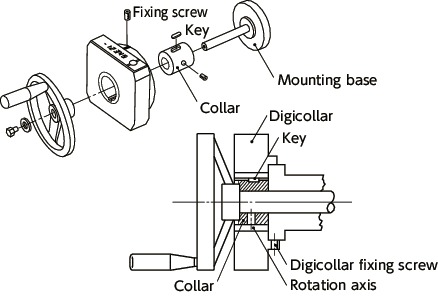 Usage Example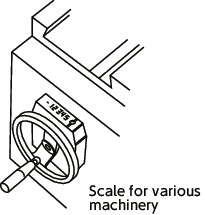 RNCL-R Bore Diameter Collar (Optional)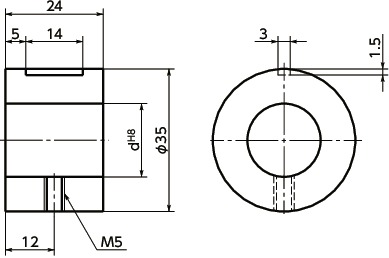 RNCL-R
Main body
S45C
Ferrosoferric Oxide Film (Black)
Related Products
Optional Digicollar bore diameter collars
RNCL-R
are available.
RNCL-R