Specs/CAD
Part Number
A
D
W
L1
L
Max. Load Weight
Mass
(g)
Price
(USD)
CAD
Download
Add to Cart
DFS-75-PB-34
75
34
90
103
127
6kg
950
147.20
CAD
Cart
● Fixing rubber sheet is attached. Dimensional allowance of available round pipe is ±0.5 mm.
Structure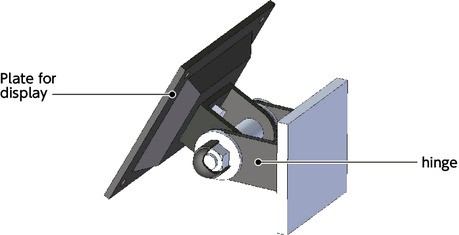 Material/Finish
DFS-AF
DFS-AA
DFS-PB
DFSN-AF
DFSN-AA
DFSN-PB
Display
Plate
SPHC
Cation Painting
hinge
SS400
Electrostatic Coating
Clamp Lever
Nylon 6
-
-
Hex Nut
-
-
SS400
Trivalent Chromate Treatment
Fixing
Plate
SS400
Electrostatic Coating
-
SS400
Electrostatic Coating
-
Bracket
-
A6063
Alumite Treatment
-
A6063
Alumite Treatment
Characteristics
The display can be tilted by ±90° to the single axis direction.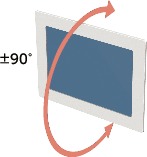 By tightening the clamp lever or hexagon nut, securely retain the angle after adjustment.
Clamp lever type ----

DFS


Hexagon nut type ----DFS

N

For counterpart, three types of Mounting System for Display are available.
For aluminum frame / For wall panel and sheet metal ----DFS*-

AF


For aluminum frame end mounting ----DFS*-

AA


For round pipe ----DFS*-

PB
Application
Machine tool / Medical equipment / FPD production device / Semiconductor manufacturing device / Packing machine / Food machinery

Maximum load weight
| Product code | Max. load weight |
| --- | --- |
| DFS | 6 kg |
| DFSN | 10 kg |
Related Products
Pulls to make it smooth to adjust the display angle
DPU
is available.
DPU