Specs/CAD
*1: Mounting bolts are not supplied.
Structure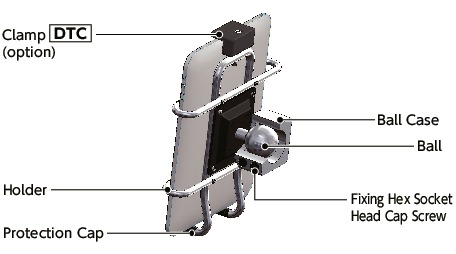 Material/Finish
DTK-AF
DTK-AA/DTK-PB
Holder
SS400
Chrome Plating
Protection Cap
Flexible PVC (lead-free)
Ball Case
A6063
Alumite Treatment
Ball
S45C
Trivalent Chromate Treatment
Fixing Hex Socket Head Cap Screw
(M5 x 16 mm)
SCM435
Ferrosoferric Oxide Film
Fixing Plate
SS400
Electrostatic Coating
-
Bracket
-
A6063
Alumite Treatment
Characteristics
Tablet PC fixing parts compatible with iPad

*1

.


*1: iPad is a trademark of Apple Inc. Compatible with iPad2 / New iPad.

This fixes a tablet PC to a production facility or test device. Tablet PC can be mounted / unmounted easily just by inserting / removing it.
Robust design. It has a high durability.
By tightening the fixing hex socket head cap screw, securely retain the angle after adjustment.
For counterpart, three types of Mounting System for Display are available.
For aluminum frame / For wall panel and sheet metal ----DTK-

AF


For aluminum frame end mounting ----DTK-

AA


For round pipe ----DTK-

PB

This is suitable for checking the tablet PC screen while both hands are in use.
The holder can be tilted by ±15° to any direction.
It can also be rotated by 360°.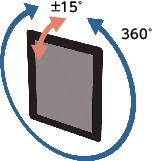 We also produce Mounting System for Display of special specifications compatible with tablet PCs of various sizes.
Special specifications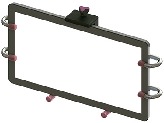 Application
Machine tool / Medical equipment / FPD production device / Semiconductor manufacturing device / Packing machine / Food machinery

Option
By using the optional

DTC

, a tablet PC can be completely fixed.
For cases where the mounting direction must be changed or bringing out the tablet PC is prohibited.
| Part Number | Mass(g) |
| --- | --- |
| DTC | 70 |
Material/Finish
DTC
Clamp
AC4C-F
Electrostatic Coating
Clamping Screw
SUSXM7