Specs/CAD
Part Number←1
Supports Tablet PCs
A
t
Max. Load Weight (kg)
Mass (g)
Price
(USD)
CAD
Download
Add to Cart
Thickness min./max.
Width min./max.
Height min.
DTA-13-330-BK
6/13
190/330
155
44
28
5
505
105.86
CAD
Cart
DTA-20-330-BK
13/20
190/330
155
51
35
5
513
105.86
CAD
Cart
Structure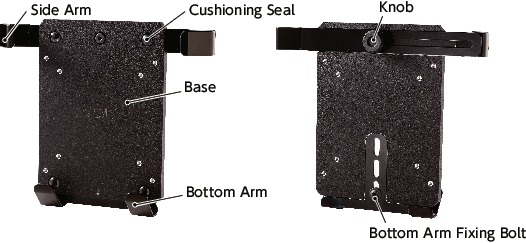 Material/Finish
DTA
Base
Aluminum Alloy
Electrostatic Coating
Side Arm
Bottom Arm
SPHC
Electrostatic Coating
Nylon Coating (Tip Only)
Knob
Nylon 6
Knob Thread Part
S45C
Trivalent Chromate Treatment
Bottom Arm Fixing Bolt
SCM435
Ferrosoferric Oxide Film
Cushioning Seal
Polyurethane
Characteristics
A holder for mounting equipment and devices to tablet PCs.
Robust design. It has excellent durability.
Tablet PCs between 9 and 12 inches

*1

can be mounted by adjusting the side arm and bottom arm.
Arm interference with the various tablet PC ports can be avoided by adjusting the side arm and bottom arm position.
Select the model number depending on the thickness of the tablet PC to be mounted.
Tablet PC Thickness
6 - 13 mm ---- DTA-

13

-330-BK
13 - 20 mm ---- DTA-

20

-330-BK
The nylon coating on the arm tip and the cushioning seal on the base prevent the tablet PC from being scratched.
When mounting

DTA

to equipment and devices, display mounting systems should be used

*2

. Also, there are M4 screw holes at 75 mm x 75 mm and 100 mm x 100 mm positions to allow mounting with commercially available display mounting systems compliant with VESA standards.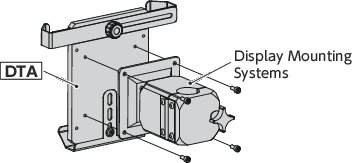 *1: 9-inch and 10-inch tablet PCs can only be installed horizontally.
*2: Screws for mounting to display mounting systems are not supplied.
Combining with the display mounting systems below allows the tablet PC angle to be adjusted.
Application
Machine tool / Medical equipment / FPD production device / Semiconductor manufacturing device / Packing machine / Food machinery

Tablet PC Mounting Method

Height Adjustment Method

*1: The tablet PC may fall out of the holder if not tightened sufficiently.