Specs/CAD
Part Number
B
Mass
(g)
CAD
Download
DTSN-AA-40
40
1310
-
Structure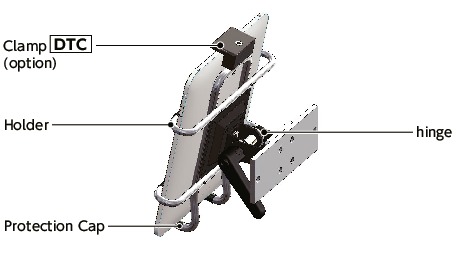 Material/Finish
DTS-AF
DTS-AA
DTS-PB
DTSN-AF
DTSN-AA
DTSN-PB
Holder
SS400
Chrome Plating
Protection Cap
Flexible PVC (lead-free)
hinge
SS400
Electrostatic Coating
Clamp Lever
Nylon 6
-
-
Hex Nut
-
-
SS400
Trivalent Chromate Treatment
Fixing
Plate
SS400
Electrostatic Coating
-
SS400
Electrostatic Coating
-
Bracket
-
A6063
Alumite Treatment
-
A6063
Alumite Treatment
Characteristics
Tablet PC fixing parts compatible with iPad

*1

.


*1: iPad is a trademark of Apple Inc. Compatible with iPad2 / New iPad.

This fixes a tablet PC to a production facility or test device. Tablet PC can be mounted / unmounted easily just by inserting / removing it.
Robust design. It has a high durability.
By tightening the clamp lever or hexagon nut, securely retain the angle after adjustment.
Clamp lever type ----

DTS


Hexagon nut type ----DTS

N

For counterpart, three types of Mounting System for Display are available.
For aluminum frame / For wall panel and sheet metal ----DTS*-

AF


For aluminum frame end mounting ----DTS*-

AA


For round pipe ----DTS*-

PB

This is suitable for checking the tablet PC screen while both hands are in use.
The holder can be tilted by ±90° to the single axis direction.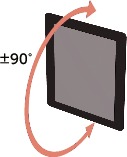 We also produce Mounting System for Display of special specifications compatible with tablet PCs of various sizes.
Special specifications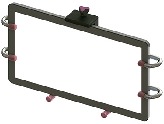 Application
Machine tool / Medical equipment / FPD production device / Semiconductor manufacturing device / Packing machine / Food machinery

Option
By using the optional

DTC

, a tablet PC can be completely fixed.
For cases where bringing out the tablet PC is prohibited.
| Part Number | Mass(g) |
| --- | --- |
| DTC | 70 |
Material/Finish
DTC
Clamp
AC4C-F
Electrostatic Coating
Clamping Screw
SUSXM7