Hints for Correctly Using NBK Products
The video is an example using CUAB(CUAB). You can perform the same operation using this product.
Specs/CAD
Material/Finish
CUPB
Bracket Body
A6063
Anodized
Cover
A6063
Anodized
Plate
Polyacetal (Black)
Push Button
Polyacetal (Black)
Characteristics
Bracket for simple positioning when using vertical axis round pipes/round shafts.
Push the push button to unlock the lock, smoothly move the bracket vertically, and release the push button to fix it in position.
It can be moved upward without pushing the push button, just by applying force.
Load capacity of up to 5 kg.
Precautions for Use
Mount to a vertical axis.

CUPB

requires vertical mounting. If mounted upside-down,

CUPB

cannot remain fixed onto round pipes/round shafts.
It will prevent rotating movements, but it will not be able to remain completely fixed.

CUPB

is a product that uses friction fastening. In cases where oil, etc. adhered to the round pipe/round shaft causes the friction coefficient to decrease or if impact loads or vibrations occur, the maximum load weight may decrease.
The surface may be scratched depending on the material and surface finish of the round pipe/round shaft.
If excessive loads are applied, then the round pipe/round shaft may be scratched or

CUPB

may be damaged.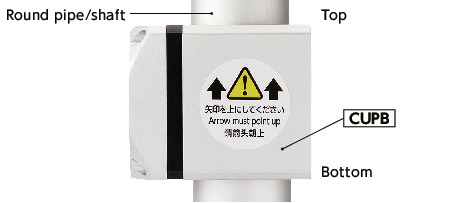 Take care to pay attention to the vertical orientation when mounting.
Mounting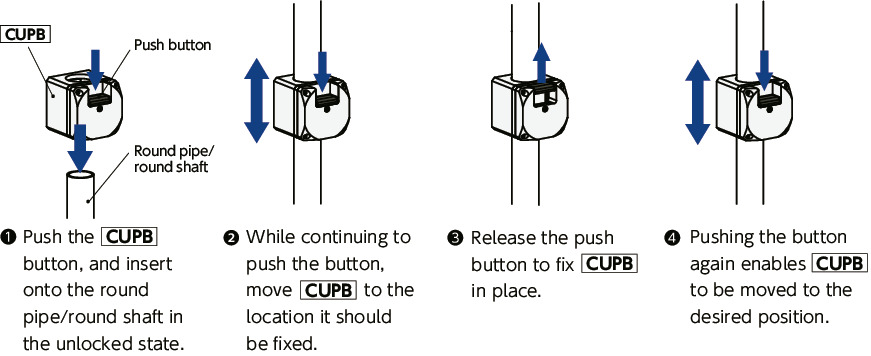 Related Products
Tablet PC holders
DTAC-PB
using brackets for round pipes
CUPB
are available.
DTAC-PB