Available Area
Japan, the US, Canada, Mexico, China, Taiwan, South Korea, and Europe

Characteristics
Repeater hubs dedicated for use with Auto-Positioning Units

EPU-210

and

EPU-220

.
When using a repeater hub, select a unit with connector from

EPU-210-B

and

EPU-220-B

.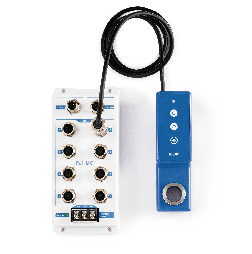 Eight units can be connected to one repeater hub. Connect four repeater hubs together to enable the use of 32 units.
When connecting multiple

EPU-210

or

EPU-220

, this enables easy wired connection and reduces wiring work.
Because the connector shapes differ according to the unit or device, wiring mistakes are not a concern.
To connect the repeater hub with a unit or device, the dedicated cable

EOCA-200

is required. EOCA-200
Four hex socket head cap screws for mounting (M3 × 8 mm) are provided.
Material/Finish
EORP-200
Main Body
ABS Resin (Off-white)
Connectors
Zinc Alloy
Nickel Plating
Power Terminal Block
Glass Fiber Reinforced Polybutylene (Black)
Hex Socket Head Cap Screw
(Supplied Items)
SUSXM7
Performance
Power Source Voltage
DC24V ± 10%
Current
Consumption
Waiting
60mA
Rated
5A
Max.
8A
Interface
COM A
Connector
RS-485
M12 D Cord 4-pole Male Shielded
COM B
Connector
RS-485
M12 D Cord 4-pole Female Shielded
EPU
Connector
(RS-485 + 24 V Power Supply) x 8
M12 A Cord 4-pole Female Shielded
Operating
Environment
Temperature
-5℃ to 55℃(no freezing)
Humidity
20%RH to 85%RH(no condensation)
Precautions for Use
For details on the mounting and setting methods, please refer to the
Instruction Manual
. Be sure to read the "Safety Precautions" and "Precautions on EMC" in the
Instruction Manual
before use.
The Instruction Manual can be
downloaded
from the NBK website.
Related Products
Repeater hub dedicated cables
EOCA-200
are available.
EOCA-200