Specs/CAD
Part Number

A

A

L

L

W

W

E

E

F

F

G

G
M
Screw Tightening
Torque (N・m)Screw Tightening
Torque (lbf in.)
Standard Bore Diameter
D1-D2
Price
(USD)
CAD
Download
Add to Cart
Additional Modification
MOHS-19C

19

0.748

7

0.276

22.1

0.87

10

0.394

3.5

0.138

6.5

0.256
M2.5

0.5

4.43
-
382.20
CAD
Cart
MOHS-26C

25.4

1

8

0.315

27.2

1.071

14

0.551

4

0.157

9

0.354
M3

0.7

6.19
-
498.71
CAD
Cart
MOHS-32C

31.7

1.248

10

0.394

33.3

1.311

18

0.709

5

0.197

11

0.433
M4

1.2

10.62
-
688.75
CAD
Cart
Part Number
Max. Bore Diameter
(mm)
Rated
Torque*1
(N・m)Rated
Torque*1
(lbf in.)
Max. Torque
*1(N・m)Max. Torque
*1(lbf in.)
Max. Rotational Frequency
(min-1)
Moment of
Inertia
(kg・m2)*2Moment of
Inertia
(oz. in.2)*2
Static
Torsional
Stiffness
(N・m/rad)Static
Torsional
Stiffness
(lbf in./deg)
Max. Lateral Misalignment
(mm)Max. Lateral Misalignment
(in.)
Max. Angular
Misalignment
(°)
Mass
(g) *2Mass
(oz) *2
MOHS-19C
8

0.4

3.54

0.8

7.08
900
1.4×10

-6

0.077

160

24.71

1.3

0.051
2

28

0.99
MOHS-26C
10

1.2

10.62

2.4

21.24
900
5.5×10

-6

0.301

220

33.98

1.5

0.059
2

61

2.15
MOHS-32C
14

2.2

19.47

4.4

38.94
900
1.6×10

-5

0.875

600

92.68

2

0.079
2

110

3.88
*1: Correction of rated torque and max. torque due to load fluctuation is not required. For more detailed information, please refer to Selection Guidelines.
*2: These are values with max. bore diameter.
Part Number
Standard Bore Diameter D1・D2
5
6
8
10
11
12
14
MOHS-19C
●
●
●
-
-
-
-
MOHS-26C
-
-
●
●
-
-
-
MOHS-32C
-
-
●
●
●
●
●
● All products are provided with hex socket head cap screw.
● Recommended tolerance for shaft diameters is h6 and h7.
● Bore and keyway modifications are available on request. Please take advantage of our modification services.
● For the shaft insertion amount to the coupling, see Mounting/maintenance. ⇒Mounting and Maintenance
Material/Finish
MOHS-C
Hub
SUS303
Spacer
VESPEL

*1

Hex Socket Head Cap Screw
SUSXM7
Molybdenum Disulfide Coating
Characteristics
| | MOHS-C |
| --- | --- |
| Low Particle | △ |
| Vacuum-supported | ◎ |
| Low Outgas | ○ |
| Heat-resistance | ◎ |
| Chemical Resistance | ○ |
| Allowable Misalignment | ◎ |
| Electrical Insulation | ◎ |
| Cleanroom Specification | ◎ |
| Allowable Operating Temperature | -20℃ to 200℃ |
This is an oldham type flexible coupling.
Cleanroom wash/cleanroom packing provided. It can be used in an environment or cleanroom where heat resistance and chemical resistance are required, such as FPD manufacturing equipment.
VESPEL SPC5000 is adopted in the spacer.
This is superior in heat resistance and chemical resistance, and the amount of outgas at high temperature is ultralow.
Slippage of hubs and a spacer allows eccentricity and angular misalignment to be accepted.
The load on the shaft generated by misalignment is small and the burden on the shaft is reduced.
Application
FPD manufacturing device / Semiconductor manufacturing device

Precautions for Use
In case of mounting on D-cut shaft, be careful about the position of the D-cut surface of the shaft. ⇒Mounting and Maintenance
There are sizes where the hex socket head bolt exceeds the outer diameter of the coupling and the rotating diameter is larger than the outer diameter. Please be careful of the interference of coupling. Rotation Diameter
Analysis of Outgas
Component
Content
Inorganic Gas
Hydrogen
500 or Less
Carbon Monoxide
500 or Less
Carbon Dioxide
500 or Less
Organic Gas
Methane
5 or Less
Ethane
5 or Less
Ethylene
5 or Less
Propane
5 or Less
Acetylene
5 or Less
i-Butane
5 or Less
n-Butane
5 or Less
Propylene
5 or Less
Measurement Method
Inorganic gas----Gas chromatography (TCD)
Organic gas----Gas chromatography (FID)
Measurement Conditions
Heating temperature----100°C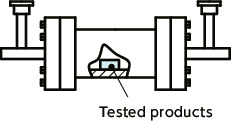 Eccentric Reaction Force
These are initial slippage load values of hubs and a spacer.
After running-in operation, the slippage load becomes small, the load on the shaft due to misalignment becomes lowered, and the burden on the shaft bearing is reduced.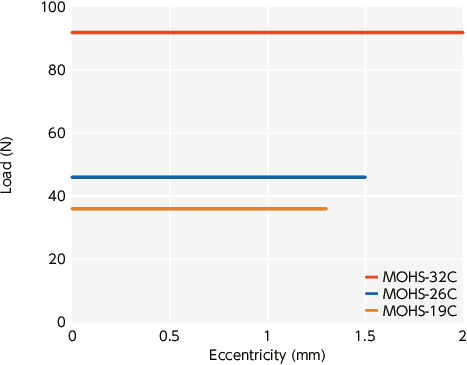 Change in static torsional stiffness due to temperature
This is a value under the condition where the static torsional stiffness at 20°C is 100%.
The change of
MOHS-C
in torsional stiffness due to temperature is small and the change in responsiveness is extremely small. If the unit is used under higher temperature, be careful about misalignment due to elongation or deflection of the shaft associated with thermal expansion.