Characteristics
Position retention (locking) optional parts used in combination with Wireless Positioning Units

EPU-100

.
Suitable for preventing positioning misalignment due to equipment vibration, external force, or dead weight in vertical use after positioning with

EPU-100

.
The input/output velocity ratio is 1:1.
Material/Finish
EPL
Main Body
A6061
Anodized
Output Shaft
SUS440C
(Hardness: 52 - 58 HRC)
Function
Mounting
①Align the output shaft of the Wireless Positioning Unit
EPU-100
with the D-cut surface phase of the hole on the input side of the lock adapter
EPL
, and insert.
②Align the spigot joint, and combine
EPL
and
EPU-100
in parallel.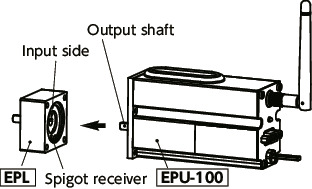 ③Insert
EPL
between the equipment side mounting part and
EPU-100
, and fix with a hex socket head cap screw such that there are no gaps between
EPU-100
,
EPL
, and the equipment.
*Hex socket head cap screws are not provided.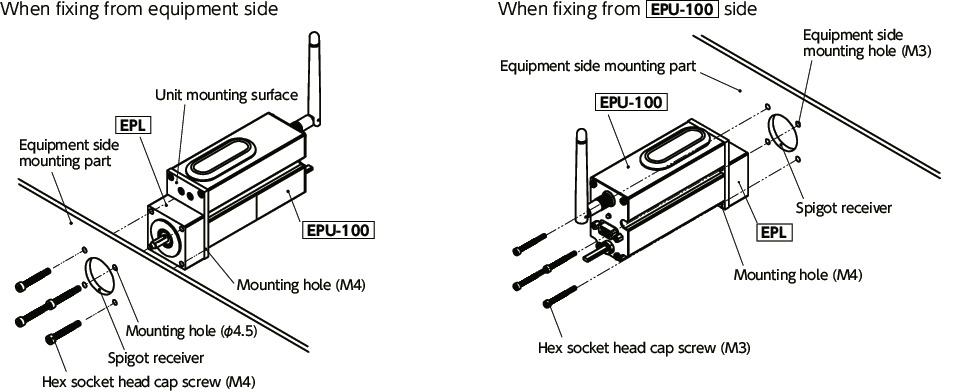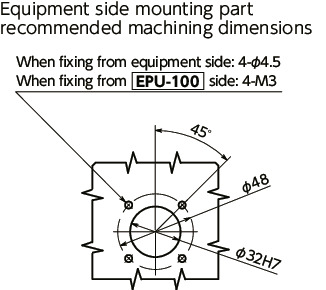 Performance
Retention Torque

*1

5 N・m
Loss Torque

*2

0.05 N・m
Velocity Ratio
Constant Velocity (1:1)
Precautions for Use
Be sure to read the Instruction Manual before use to ensure safe and correct usage.
The Instruction Manual can be downloaded from the NBK website.