Available Area
Can be sold/shipped to the US, Canada, South Korea, Taiwan

Characteristics
The built-in motor rotates the feed screw, grasping the current position via the encoder and stopping at the target position. Positioning is automated with the feed screw.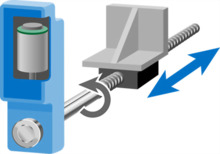 For

EPU-220

control, a dedicated transceiver (sold separately) is required. The required transceiver differs depending on the host/connection method.


EPC-200-CC

EPC-200-CC----PLC control (CC-Link connection)

*1




EPC-210-EIP

EPC-210-EIP----PLC control (EtherNet/IP

TM

connection)

*1
*1: Control with a PC is also possible.
One dedicated transceiver can control up to 32 units at the same time. Signals from the transceiver to each unit are transmitted wirelessly, with no troublesome cable wiring required.

*2
*2: Wired connection is also possible. When connecting multiple units, the use of the separately sold repeater hub EORP-200 (EORP-200) enables easy wired connection and reduces wiring work.
Mounting can be completed simply by replacing the installed operation handle with

EPU-220

. Compared with the use of a combined handle and indicator, it is thinner and more compact.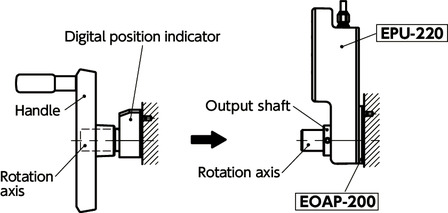 IP65 dust-proof and waterproof structure. It can be used safely even in environments where it may be exposed to dust or water.
For initial setting and PC control, the dedicated software

EPU-COM

is required. The dedicated software is available free of charge. Please download from the NBK website.
(https://www.nbk1560.com/contact/positioning-unit-contents-form-software-dl/thanks/)
The dedicated software function enables registration of up to 100 setups.


EPC-200-CC

EPC-210-EIP

----Max. 100
Cable terminal specifications can be selected by the product code. When using the repeater hub

EORP-200

(EORP-200), select the connector type.
EPU-220-

A

----Loose wiring
EPU-220-

B

----Connector

CC-Link is a registered trademark of Mitsubishi Electric Corporation.
EtherNet/IP is a registered trademark of ODVA, Inc.
Specs/CAD
Material/Finish
EPU-220-A-BL
EPU-220-B-BL
Main Body
Nylon 6 (Blue)
Nylon 6 (Blue)
Output Shaft
SUS304
SUS304
Cable Clamp
Brass
Nickel Plating
Brass
Nickel Plating
Power/Signal Cable
Oil Resistant PVC
(Matte Black)
Oil Resistant PVC
(Matte Black)
Connector
Zinc Alloy
Nickel Plating
Hex Socket Set Screw
SUSXM7
SUSXM7
Performance
Power Source Voltage
24 VDC ± 10%
Current
Consumption
Waiting
20 mA
Rated
0.6 A
Max.
1 A
Rated Output
5 W
Rated Rotational Frequency
60 ±10 rpm
Rated Torque
0.8 N・m
Continually Usable Time
1 Minute or Less

*1

Output Shaft
Max. Allowable Load
Radial Load
19.6 N

*2

Thrust Load
19.6 N

*2

Output Shaft Retention Torque
0.7 N・m

*3

Stop Accuracy
± 5°
Input
Wireless
Communication
2.4GHz Band
Wireless Communication
Wired
Communication
RS-485 (2-wire type)
Wireless Reach Distance
(Reference Value)
Indoors
60 m
Outdoors
1200 m
IP Protection Class
IP65
Operating
Environment
Temperature
-5°C to 55°C (no freezing)
Humidity
20% RH to 85% RH (no condensation)
Pollution Degree
3
Altitude
2000 m or Less Above Sea Level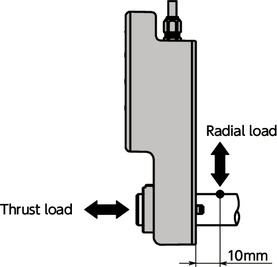 *3: Values are for reference only. They are not guaranteed values.
Precautions for Use
For details on the mounting and setting methods, please refer to the Instruction Manual. Be sure to read the "Safety Precautions" and "Precautions on Radio Wave and EMC" in the Instruction Manual before use.
The Instruction Manual can be downloaded from the NBK website.
Countries and regions where this product is available are Japan, the US, Canada, China, Taiwan, and South Korea.
When used in combination with other products or with the customer's existing systems, equipment, etc., confirm independently that it is compliant with the standards, laws, and/or regulations of the country of use.
Related Products
Dedicated transceivers are available.
EPC-200-CC
EPC-200-CC
and
EPC-210-EIP
EPC-210-EIP
for PLC control

Repeater hubs
EORP-200
are available to enable easy wired connection and reduce wiring work.
EORP-200

When replacing a digital position indicator with
EPU-220
,
EOAP-200
dedicated mounting plates are available to make use of the existing machine mounting holes.
EOAP-200

EOCL-200
dedicated collars enable the output shaft bore diameter to be changed to match the rotation shaft.
EOCL-200

High torque adapters
EOAT-200
are available to amplify rated torque in locations requiring high torque.
EOAT-200