Characteristics
With a PLC and CC-Link connection, up to 32 units of Wireless Positioning Units

*1

can be used with simultaneous automated control.
Configuration of

EPC-200-CC

can be easily performed with a PC and dedicated software

EPU-COM

.

EPU-COM

is available free of charge. Please download from the NBK website.
(https://www.nbk1560.com/en-US/products/mechatronics/positioning_unit/EPC-200-CC/)
A PC connection USB cable (length: 1 m) is provided.
Use the DIN rail foot to enable mounting to DIN rails with one touch.

* 2
*1: EPU-100 can only be controlled wirelessly.
*2: If operating a Wireless Positioning Unit wirelessly, avoid installing EPC-200-CC inside a metal housing. This will degrade wireless performance.
Material/Finish
EPC-200-CC
Main Body
Polyamide (Light Gray)
DIN Rail Foot
Steel
Trivalent Chromate Treatment
Only takes two minutes to understand!Wireless Positioning Units (EPU-200 EPC-200) Installation/Connection Method
Mounting
Hook on a transceiver unit to one side of the DIN rail (width 35 mm) and press the DIN rail foot onto the rail.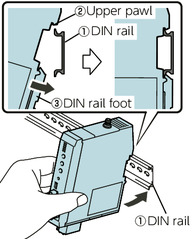 Removal
Pull down the DIN rail foot with a flathead screwdriver, then lift
EPC-200-CC
up or remove by sliding along the rail.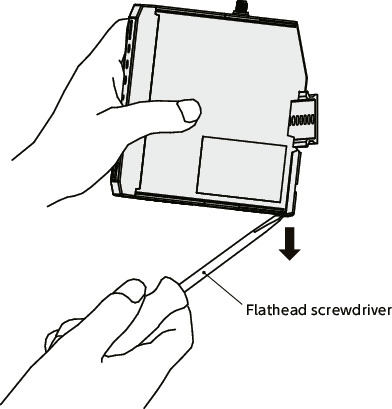 Performance
Power Source Voltage
24 VDC ±10% (External Power Supply)
5 VDC ±5% (USB Power Supply)
Current Consumption
30 mA
Host Connection Method
PLC: CC-Link Ver.2.00

*1


PC: USB 2.0
Unit
Connection Method
Wireless
2.4GHz Band Wireless Communication
Wired
RS-485 (2-wire type)
Wireless Reach Distance
(Reference Value)
Indoors
60 m
Outdoors
1200 m
Maximum No. of Connected Wireless Positioning Units
32 Units
Operating Environment
Temperature
-5°C to 55°C (no freezing)
Humidity
20% RH to 85% RH (no condensation)