Specs/CAD
Part Number
D
M
H
s
d
d1
B
Lh
Mass
(g)
Price
(USD)
CAD
Download
Add to Cart
KSKA-32-M6
32
M6
22
11
14
6.7
10
15
29
9.95
CAD
Cart
KSKA-40-M8
40
M8
24
10
18
8.7
13
15
54
12.18
CAD
Cart
Nabeya Bi-tech Kaisha
Customer Service
Please enter questions about customization and other product-related inquiries here.
Find the inquiry form here
Hints for Correctly Using NBK Products
Material/Finish
KSKA
Knob Main Body
Aluminum Alloy
Anodized
Hub
SUS304
Characteristics
Male screw knobs can be created through combination with commercial hex socket bolts. Screw length is freely selectable depending on the hex socket bolt used.
Use hex socket bolts with head dimensions as indicated below.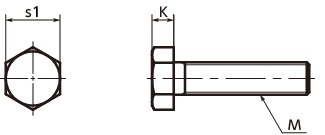 Knob bodies and hubs are metal. Suitable for applications in equipment and devices using metal detectors as foreign matter entry countermeasures.

*1
*1: Confirm that the metal detector reacts to aluminum alloys and stainless steel.
Use the dedicated jig

KSKA-W

for assembly. The jig is made of resin and will not damage the knob body.
We also manufacture male screw knob products assembled with hex socket bolts. Please contact our customer service.
Precautions for Use
Do not use the knob as a way to pick up workpieces. The knob and hub may come apart.
After use, carefully wipe away any moisture or dirt. If moisture or dirt containing sodium remains on the knob, it may cause corrosion.
Assembing method

Related Products
KSKA-W