Click here for all downloads!
Catalog PDF
・・・Drawings and dimensions are available. Click here for product details.
Manual
・・・Be sure to read the Instruction Manual before use to ensure safe and correct usage.
Software
・・・Download for free! Check the actual operation screen.
Product Configuration
・・・Introducing the entire Wireless Automation Unit series.
The Wireless Positioning Unit's features are introduced in this video!
Characteristics
These units automate positioning mechanisms with a feed screw. By replacing the feed screw operating handle with

EPU-200

, device positioning mechanisms can be automated.
Through the use of the dedicated transceivers

EPC-200-CC

(EPC-200-CC), simultaneous automated operation of up to 32 Wireless Positioning Units is possible. Wireless connection to transceivers is possible.
For configuration and control of

EPU-200

, the dedicated software

EPU-COM

is required. The dedicated software is available free of charge. Please download from the NBK website.
Controller and antenna are built in. Thin shape helps save space.
When using a handle and digital position indicator in combination, using the adapter plate

EOAP-200

(EOAP-200) eliminates the need for additional modification work. This saves space compared with the combination of a handle and a digital position indicator.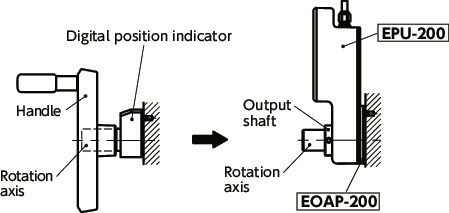 IP65 dustproof and waterproof protection.
Uses NSF H1 accredited food machinery grease.
Material/Finish
EPU-200
Main Body
Nylon 6 (Blue)
Output Shaft
SUS304
Cable Clamp
Brass
Nickel Plating
Power/Signal Cable
Oil Resistant PVC (Matte Black)
Only takes two minutes to understand!Wireless Positioning Units (EPU-200 EPC-200) Installation/Connection Method
Mounting
① Drill holes for the positioning pins on the mounting surface of the machine, then put the rotation axis through the mounting surface as per the figure.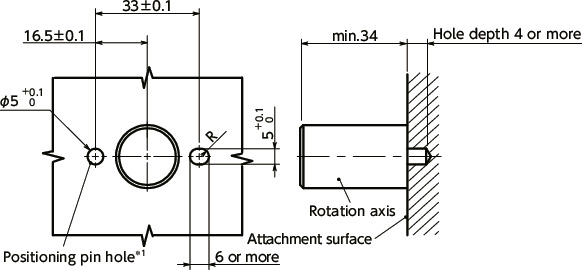 *1: Make one of the two positioning pin holes into a slotted hole as per the figure. If machining a slot is difficult, drill out a φ6 or larger round hole.
② Pass the rotation axis through the unit output shaft and insert the positioning pins into the holes drilled in ①, then secure with the hex socket set screws supplied. (Recommended tightening torque: 2.8 N・m)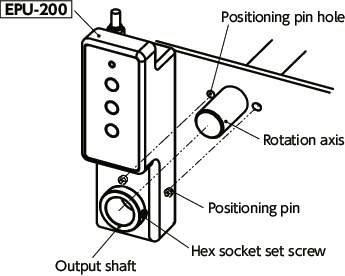 Performance
Power Source Voltage
24 VDC ± 10%
Current Consumption
Waiting
40 mA
Rated
0.6 A
Max.
1 A
Rated Output
5 W
Rated Rotational Frequency
60 ±10 rpm
Rated Torque
0.8 N・m
Continually Usable Time
1 Minute or Less

*1

Output Shaft
Max. Allowable Load
Radial Load
19.6 N

*2

Thrust Load
19.6 N

*2

Stop Accuracy
± 5°
Input
Wireless Communication
2.4GHz Band Wireless Communication
Wired Communication
RS-485 (2-wire type)
Wireless Reach Distance
(Reference Value)
Indoors
60 m
Outdoors
1200 m
IP Protection Class
IP65
Operating Environment
Temperature
-5°C to 55°C (no freezing)
Humidity
20% RH to 85% RH (no condensation)
Related Products
Dedicated transceivers are available.
For PLC control
EPC-200-CC

If replacing a digital position indicator with
EPU-200
, a
EOAP-200
dedicated adapter plate is available to make use of the existing machine mounting holes.
EOAP-200

EOCL-200
dedicated collars enable the output shaft bore diameter to be changed to match the rotation shaft.
EOCL-200