Available Area
Japan, the US, Canada, China
This item is not available in Mexico due to the Radio Act.
Please check the "Available Area" of each product page.
Characteristics
These units automate positioning mechanisms with a feed screw. By replacing the feed screw operating handle with

EPU-100

, device positioning mechanisms can be automated.
Through the use of the dedicated transceivers

EPC-100

(EPC-100) or

EPC-200-CC

(EPC-200-CC)

EPC-210-EIP

(EPC-210-EIP), wireless batch operation of up to 32 Wireless Positioning Units is possible. Signal wiring from the operating terminal is not required. Ideal for devices and equipment with multiple positioning locations, like packaging machines and carton formers.
Controller is built in. Extra space for amps, controllers and other equipment in addition to the main unit is not required.
With the use of an external interface connector, wired communication is possible as well as the connection of a movable range control limit sensor or a forced travel switch for abnormalities.
For configuration and control of

EPU-100

, the dedicated software

EPU-COM

is required. The dedicated software is available free of charge. Please download from the NBK website.
Combining with the dedicated lock adapter

EPL

enables position retention (locking).
Image of Replacement from Handle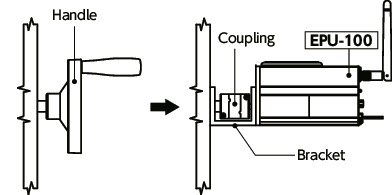 Material/Finish
EPU-100
Main Body
A6063S
Anodized (Black)
Flange
A6063S
Anodized
Back Panel
SPCC
Electrostatic Coating (Matte Black)
Output Shaft
Equivalent to SUM43
Rubber Cover
EPDM
Power Cable
Heat-Resistant Vinyl Flat Cord
Mounting
Use the spigot joint to position the Wireless Positioning Unit EPU-100 on the equipment, and fix with hex socket head cap screws to eliminate any clearance between EPU-100 and the equipment.
*Hex socket head cap screws are not provided.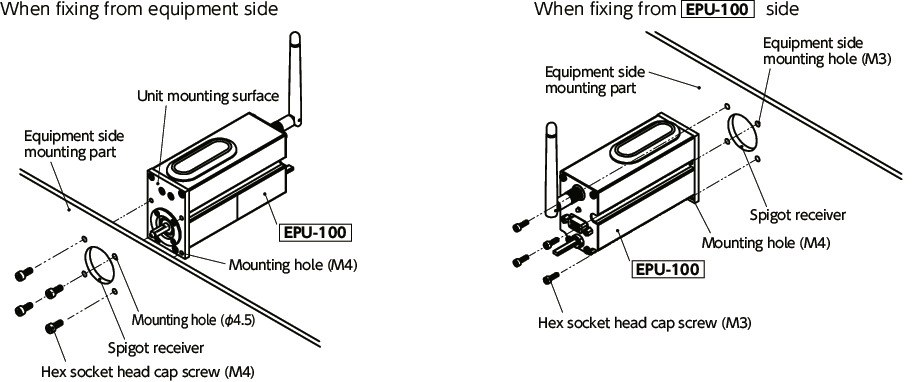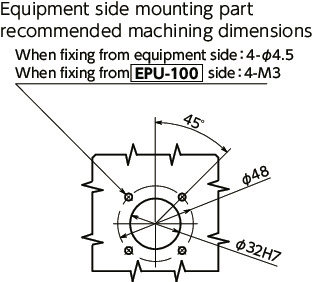 Performance
Power Source Voltage
DC24V ± 10%
Current Consumption
Waiting
20mA
Rated
0.65A
Max.
1A
Rated Output
4.98W
Rated Rotational Frequency
62 ±10rpm
Rated Torque
0.765N・m

*1

Output Shaft
Max. Allowable Load
Radial Load
29.4N

*2

Thrust Load
24.5N

*2

Stop Accuracy
±5°

*3

Input
Wireless Communication
2.4GHz Band Wireless Communication
Wired Communication
RS-232C (3-wire type)
Input Circuit
2ch

*4

Wireless Reach Distance
(Reference Value)
Indoors
60m
Outdoors
1200m
Operating Environment
Temperature
-5°C to 55°C (no freezing)
Humidity
20% RH to 85% RH (no condensation)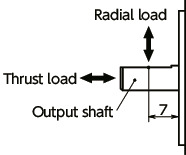 *3: When attaching the lock adapter EPL, about 10° of backlash is generated.
*4: For limit sensor connection.
Only takes two minutes to understand!Wireless Positioning Units Installation/Connection Method
Precautions for Use
Be sure to read the Instruction Manual before use to ensure safe and correct usage.

Related Products
Dedicated transceivers are available.
For PC control
EPC-100
EPC-100
For PLC control
EPC-200-CC
EPC-200-CC
、
EPC-210-EIP
EPC-210-EIP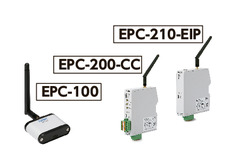 Position retention lock adapters
EPL
can be used in combination with
EPU-100
.
EPL